Figurama Bleach : 1/6 Ichigo vs Ulquiorra Elite Fandom Statue (Sold Out)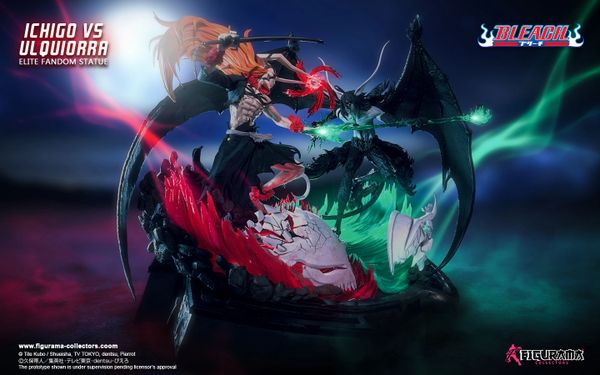 Figurama Bleach : 1/6 Ichigo vs Ulquiorra Elite Fandom Statue (Sold Out)
Overview
Born with immense spiritual energy, Ichigo Kurosaki accepts the power of a Shinigami to save his family. Now entrusted with protecting the world as a Substitute Shinigami, Ichigo assists with guiding lost souls to the afterlife while purifying the Hollows that threaten to devour the living and dead alike.
When Ichigo's childhood friend, Orihime Inoue, is kidnapped by the Espada, a group of the powerful Hollows with Shinigami-like powers, he races to her rescue. Ichigo and friends storm the Arrancar palace, Las Noches, where he reencounters Ulquiorra Cifer, the #4 Espada. Showing Ichigo "true despair," Ulquiorra reveals his second, hidden form, Resurrección: Segunda Etapa, and fires a Cero Oscuras through Ichigo's chest at point-blank range. Horrified, Orihime races to heal Ichigo, her desperate screams awakening his Vasto Lorde form—a rare Hollow fueled by instinct and aggression. The underworld erupts into chaos as Ichigo and Ulquiorra wage a final epic battle while the World of the Living hangs in the balance.
-Highly limited to 1,300 pieces worldwide, each statue includes an exclusive art print and autographed Certificate of Authenticity by Figurama Collectors CEO, Mr. Shanab.
-Edition Size: 1300 pieces worldwide
-Series: Elite Fandom Statue
-Release Date: Q3 2021
-Size: 1/6 scale – Approximately: H 45.5cm x W 52cm x D 39cm (H 17.9in x W 20.5in x D 15.4in)
-Certificate of Authenticity: Signed by Figurama Collectors CEO, Mr. Shanab
-Includes: Swappable portrait for Ichigo, removable Cero and Cero Oscuras effects, alternative left arm for Ulquiorra; exclusive art print
-Materials: Polystone, PVC, Metal Diecast, LED
-Creative Director: Mr. Shanab / Figurama Collectors Development Team
-Concept Artist: Jarold Sng
-3D Artist/Sculptor: Caleb Nefzen
-Coloring Artist: Three Eyes Studio
Deposit: 2800HKD
Free shipping for HK customers.