G-Link <GL-01> Grendizer & Spazer (Sold Out)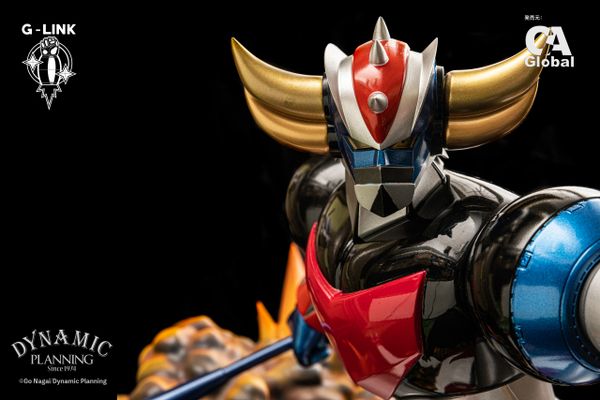 G-Link <GL-01> Grendizer & Spazer (Sold Out)
G-Link is excited to present our first Premium Collectibles series statue, Grendizer & Spazer!

Description:
An iconic Super Robot character created by Go Nagi, Grendizer riding on Spazer and dash through the enemies during the battle is one of the most remarkable scene and the first idea came into our mind was to replicate the scene by making a statue.
In order to reproduce and actualise this scene, size becomes a vital factor in order to create a visual impact on display. As for the art direction in this design, we tend to make it closer to what it appears on TV screen by thus we choose to make the appearance not too complex.
There are interchangeable option parts for both Grendizer (Screw Crusher Punch, Single Harkens) & Spazer (Spin Drill ).
The painting style of the Grendizer and Spazer is a balance between mechanic and manga image. The smoke effect parts and rocks bring a good contrast between the robot and the background of the statue. 
We hope this can be a centrepiece of Grendizer collection for Grendizer collectors and those who love this character. 
Background
It is the third entry in the Mazinger trilogy and It is widely popular in the Middle East, Italy, France and South East Asia.
Grendizer was based on the Fleedian God of War and created for the royal family. King Vega desired it and sent his soldiers to retrieve it. Laying waste to Planet Fleed, the Vegan Empire succeeded in finding the giant robot. However, it was stolen back by Prince Duke Fleed along with a Spazer and fled to Earth. Duke was adopted by a Japanese scientist named Genzo Umon, who hid the Grendizer in secrecy.
Eventually, the Vegan Empire appeared on Earth and Duke had the Grendizer reactivated to fight against them. Duke is joined in battle by his former rival Koji Kabuto, Duke's friend from the ranch he worked on Hikaru Makiba, and his long lost sister Maria Fleed. Overtime, the Grendizer is improved with more Spazers and fights against the Empire's Saucer Beasts. At times, Grendizer would fight against the Empire's generals, continually testing the strength and skill of the robot and its pilot.
Features:
Grendizer
Spazer
Screw Crusher Punch*1
Single Harkens with interchangeable arm*1
Shoulder Boomerang*1
Spin Drill*2
Spin Saucer*2
Effect parts - Smoke & Rock
Artists: Skan Srisuwan
Message from the Artist
"GRENDIZER CONCEPTS
Grendizer is one of many Super robots that inspires me to work in art and design and I'm really glad I can finally bring my childhood inspiration to life!!
The concept for the statue is to bring the most iconic elements and put them together in one statue, I decide to represent him with Double Haken pose as the main pose, interchangeable Space Thunder, and Drill pressure punch as an optional pose along with the UFO base as Grendizer victoriously fly through defeated enemies' explosion."
Colour Concept and Paint: CK Lam (HF Models) & G Link (HK) LTD
Estimated Product details:
Product Estimate size: W 130 x L 110 x H 85 cm.
Estimated Box Dimension: TBA (3 to 4 Big boxes) 
Estimated Product Weight: 100 KG
Estimated Shipping weight: 150 KG
Estimated Shipping Date: First Batch Q4 2022.
ES : MTO 
Manufactured by: G-Link (Hong Kong) Limited
Note: Prototype shown and pending final approval, final product may differ.
Deposit :  6000 HKD
Free shipping for China and Hong Kong Customers.