HMO 1/6 Warhammer Guilliman vs Chaos Space Marine Diorama (Sold out)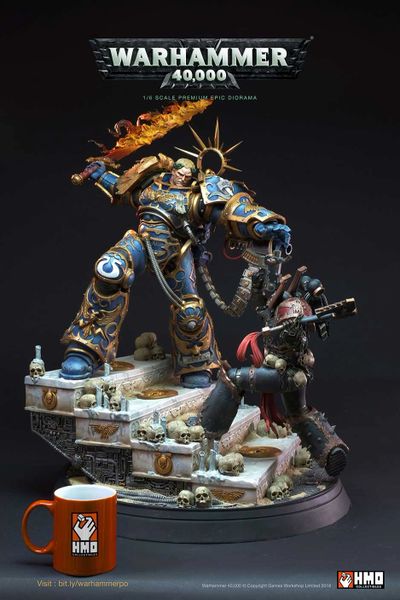 HMO 1/6 Warhammer Guilliman vs Chaos Space Marine Diorama (Sold out)
It's here. The first of its kind… Produced under Official License with Games Workshop, Roboute Guilliman vs Chaos Space Marine Diorama captures the Warhammer 40,000 icon in all his glory. Releasing worldwide, in Limited Edition, grab yours now before it's sold out!
Cast in premium quality solid resin and painted with master-level craftsmanship, Roboute Guilliman towers in 1/6 scale over a Black Legion Khorne Berserker. With interchangeable heads and a hyper-detailed sculpt, this piece is set to be the centerpiece of your display and talking point with all your envious buddies!
Roboute Guilliman, known as The Avenging Son, is the Primarch of the Ultramarines Chapter of Space marines. Not only did he lead the largest Space Marine Legion during the Great Crusade, Guilliman was renowned for his efforts to preserve the Imperium in the aftermath of the devastating Horus Heresy, He ultimately became Lord Commander of the Imperium. However, he was mortally wounded during the Battle of Thessala and put into stasis thereafter by his surviving Chapter brethren.
Here are the details:
•   License: Game Workshop – Warhammer 40,000
•   Shipping Regions: Worldwide
•   Design and Develop: Hand Made Object Limited
Statue Size: 72.6cm
Free shipping for China, HK and Macau customers.