H.M.O. 1/4 Bounties of Bathos – CrowKing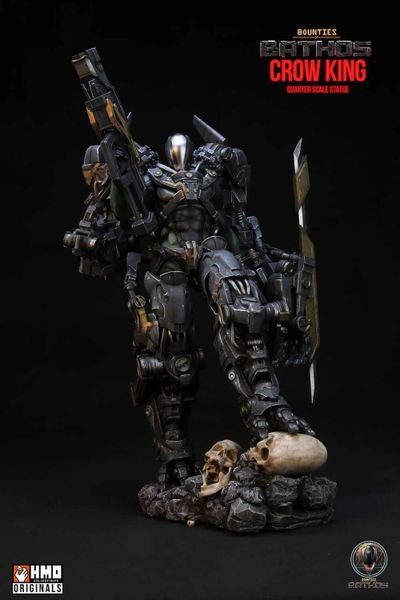 H.M.O. 1/4 Bounties of Bathos – CrowKing
HMO is proud to introduce the second character within Bounties of Bathos Universe. Crow King, is a very mysterious Hunter that has the ability to teleport through time and space. Making him very difficult to track down in the known galaxy. Crow King statue is depicted as a hunter wearing his Exoskeleton suit with its robotic mechanical gears; furthermore, he is armed with a Dijaal Spear in his right hand, and a Plasma cannon in his left. This extraordinary armour grants him speedy movement which is unparalleled in the known galaxy. Crow King is the main villain in Bathos universe and leader of the "Sons of Conner", which is also known as Zectus Slayers. Zectus skulls are depicted at statue's base – an ancient warrior alien race known as Zectus which was crashed by Crow King. Standing at an epic 28 inches tall, Crow King comes with 2 changeable heads, his "Hunting helmet" and a "Ravaging Helm head" Showing the savage Hunter in all his Glory. Little is known about Crow King that has yet to be revealed. For only the Crows know his name, they whisper it to each other. For no man has seen this Hunter and lived to tell their tale.
Only the Crows know his name…. They have deemed him their king.
One of the most Important Characters to the whole Bathos line up. Don't miss out on The KING of Hunters.
Shipping cost is free for HK and Macau customers.