Infinity Studio League of Legends Miss Fortune (Pre Order)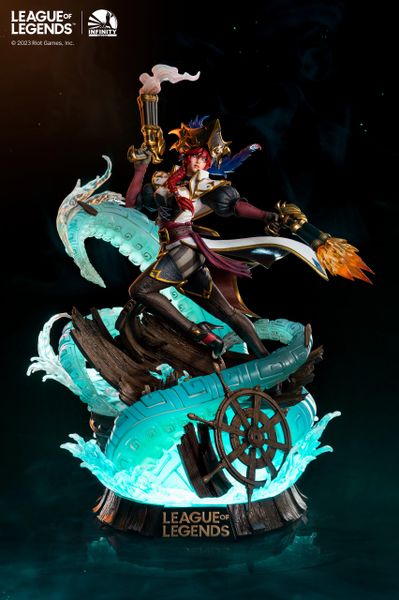 Infinity Studio League of Legends Miss Fortune (Pre Order)
𝐋𝐞𝐚𝐠𝐮𝐞 𝐨𝐟 𝐋𝐞𝐠𝐞𝐧𝐝𝐬 - 𝐌𝐢𝐬𝐬 𝐅𝐨𝐫𝐭𝐮𝐧𝐞 𝟏/𝟒 𝐒𝐜𝐚𝐥𝐞 𝐒𝐭𝐚𝐭𝐮𝐞
.
A Bilgewater captain famed for her looks but feared for her ruthlessness, Sarah Fortune paints a stark figure among the hardened criminals of the port city. As a child, she witnessed the reaver king Gangplank murder her family—an act she brutally avenged years later, blowing up his flagship while he was still aboard. Those who underestimate her will face a
beguiling and unpredictable opponent… and, likely, a bullet or two in their guts.
---------------------------
𝑷𝙧𝒐𝙙𝒖𝙘𝒕 𝑫𝙚𝒕𝙖𝒊𝙡𝒔
- 𝗙𝗮𝗰𝗶𝗮𝗹 𝗙𝗲𝗮𝘁𝘂𝗿𝗲𝘀: Expressive facial features, resolute gaze with blue irises, and fiery red hair.
- 𝗔𝘁𝘁𝗶𝗿𝗲: Detailed sculpting and painting capture the flowing clothes and distinctive style.
- 𝗪𝗲𝗮𝗽𝗼𝗻𝘀: Her dual pistols, a source of her power, are impressively oversized, signifying her formidable firepower. The flaming design at the gun muzzles blends intimidation and allure.
- 𝗦𝗸𝗶𝗻: Based on the in-game "Captain Fortune" skin, featuring intricate pirate hat and stylish attire with rich details.
- 𝗕𝗮𝘀𝗲: The massive sea monster on the base highlights the danger of this battle. It features luminous special effects, a prominent "League of Legends" logo plaque, and color-changing paint for a dynamic appearance.
- 𝗜𝗻𝘁𝗲𝗿𝗰𝗵𝗮𝗻𝗴𝗲𝗮𝗯𝗹𝗲 𝗛𝗲𝗮𝗱 𝗦𝗰𝘂𝗹𝗽𝘁: Includes an additional interchangeable head sculpt with a flowing hair motif, and a base with wave patterns.
- 𝗠𝗲𝘁𝗮𝗹 𝗖𝗲𝗿𝘁𝗶𝗳𝗶𝗰𝗮𝘁𝗲: Comes with a collectible Miss Fortune metal certificate for added value.
---------------------------
𝗟𝗲𝗮𝗴𝘂𝗲 𝗼𝗳 𝗟𝗲𝗴𝗲𝗻𝗱𝘀 𝟭/𝟰 𝗦𝗲𝗿𝗶𝗲𝘀 𝗖𝗼𝗹𝗹𝗲𝗰𝘁𝗶𝗯𝗹𝗲 𝗦𝘆𝗻𝗲𝗿𝗴𝘆
Miss Fortune, the Lady Gunner, is the fourth installment in the OpenSky Studio's 1/4 series of officially licensed "League of Legends" statues. It resonates with the previous collectibles in this series.
預售信息
產品編號:IFG0013A01
Product Dimensions: H 65 (cm) * W 36 (cm) * L 50 (cm)
Materials: Resin, PU, LED lighting
Limited Quantity: 399 pieces (China) + 199 pieces (Southeast Asia) + 599 pieces (Europe and America)
Estimated Shipping: 2024 Q3
Free shipping for HK customers
Deposit: 2000HKD