PREMIUM COLLECTIBLES: IRON MAN MARK VII STATUE (MOVIE VERSION) - Sold Out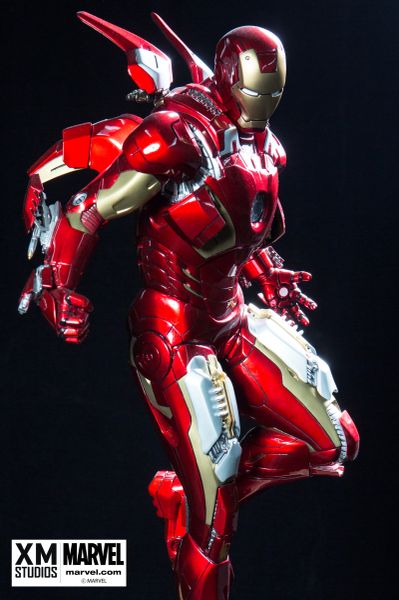 PREMIUM COLLECTIBLES: IRON MAN MARK VII STATUE (MOVIE VERSION) - Sold Out
XM Studios is proud to present Iron Man Mark VII from the Marvel Blockbuster Movie "The Avengers". Mark VII made it's debut in the movie and now this popular Ironman Suit is brought to life in an incredibly detailed 1:4 scale cold-cast porcelain format. Each painstakingly handcrafted statue stands at approximately 27 inches tall and every piece individually hand-painted with the highest possible metal-like finish. Possibly the 1st Ironman Statue to feature 2 distinctive display options; in-flight or on ground, this will be one Ironman statue like none other!
BACKGROUND:
The Avengers (Movie):
S.H.I.E.L.D. director Nick Fury assembles Iron Man, Captain America, the Hulk, Thor, Black Widow and Hawkeye to battle Thor's adoptive brother Loki, who attempts to subjugate humanity by leading an invasion by the extraterrestrial race known as the Chitauri. Mark VII made it's debut in the movie when Tony was forced to order J.A.R.V.I.S., to get it ready for combat, despite it still being constructed, to use it in the upcoming battle with the Chitauri Army.
THE IRON MAN MARK VII PREMIUM COLLECTIBLES STATUE FEATURES:
Authentic likeness of Mark VII from "The Avengers" Movie

Approximately 54cm tall (head to toe)

Crafted from cold-cast porcelain

Two (2) interchangeable lower body for alternate in-flight or on ground display.

Art print specially designed by Imaginary Friends Studios
ARTISTS:
Imaginary Friends Studios (Design and Concept)

Suheryanto Hatmaja (Sculpt)

XM Studios Design and Development Team
MANUFACTURED BY:
XM Studios
Product size : 69cm H X 34cm L X 20cm B (In Flight mode )
Est. Box Size : 68.5m H X 49.5cm L X 37cm B (estimate)
Est. Product Weight : 8kg (estimate)
Est. shipping weight : 17.5kg (estimate)
NOTE: Prototype shown and pending final approval, final product may differ slightly