Kids Logic 1/4 Gemini Saga Statue with Digital Sound System (PO)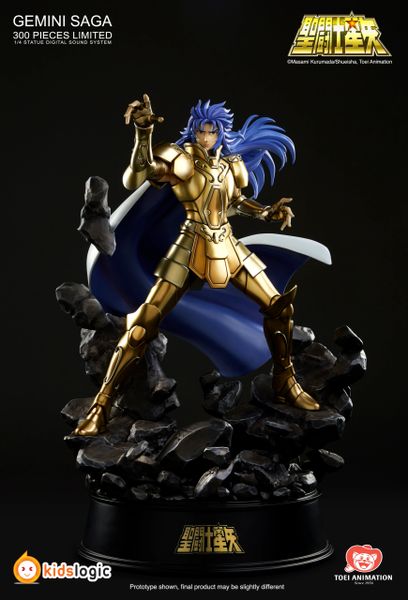 Kids Logic 1/4 Gemini Saga Statue with Digital Sound System (PO)
p.p1 {margin: 0.0px 0.0px 0.0px 0.0px; font: 12.0px Helvetica; -webkit-text-stroke: #000000} p.p2 {margin: 0.0px 0.0px 0.0px 0.0px; font: 12.0px Helvetica; -webkit-text-stroke: #000000; min-height: 14.0px} span.s1 {font-kerning: none}
ST13 1/4 Gemini Saga Statue with Digital Sound System
Limited Edition: 300 pcs worldwide.
Estimate Release Date: Dec, 2019.
Manufactured by: Kids Logic Co Ltd
Licensed by: Toei Animation Enterprises Ltd.
Order Closed Time: 12 noon HKT, 26 July, 2019 (Friday)
Barcode: 4897034450149
Kids Logic is proud to present the first Gold Saint from Saint Seiya -
ST13 1/4 Gemini Saga Statue with Digital Speaker.  Saga disguised
himself as the Pope and was the first Gold Saint that was introduced
in the story along with Leo Aiolia.  Saga is often described by other
characters as someone with the kindness of an angel but with the
darkness of a demon.  This ambivalence ended up creating a split
personality: a good Saga that was extremely loyal to Athena, and an
evil one that keeps control of the body most of the time and killed
the previous Pope to steal his place.  His famous attacking techniques
include Galaxian Explosion, Another Dimension, Demon Emperor Fist etc.
Followed by the gorgeous ST09 1/4 Armored Athena Statue, this 1/4
Gemini Saga Statue is the second one in the product line this year.
With the big scale of 50 cm tall, it might be the largest scale of
Saga's merchandise in the world so far.  As Saint Seiya fans, we pay
attention to every detail of the sculpture and we apply our
experienced painting technique to perform the strongest metallic
painting effect on the gold armour of our First Gold Saint - GEMINI
SAGA.
This is absolutely a must-have item for all Saint Seiya collectors.
Features:
Figurine Dimension: 32 (W) X 35 (L) X 47 cm (H: Height of Gemini Saga)
Stand Base Dimension: 35 cm (Diameter) X 24 cm (H: Height of the Base)
Weight: Estimate 15kg
Material: Poylstone, Resin, PVC, Metal Parts
Detail Painting: Metallic Painting Effect, Weathering Effect
Wireless Digital Sound System at the stand base of the statue
Creative Director: Kenneth Kan
Concept Design: Skan Srisuwan @ Studio HIVE
Sculptor: Wandah Kurniawan
Prototype Painter: Titinun
Photographer: One Shot Studio
Production Manager: CM Wong
Painting Controller: Mick Lee
**Prototype shown, final product may be slightly different
**Product details could be subjected to change without further notice
** The Estimate Released Date is for reference only.  Final Release
Date will be updated at this website from time to time.  Release Dates
are subject to change.
Deposit: 2400HKD
Free shipping for HK customers. No VIP discount.