LBX 1/3 Cyclops - Prestige Series (Pre Order) with Early Bones before 17 Nov 2021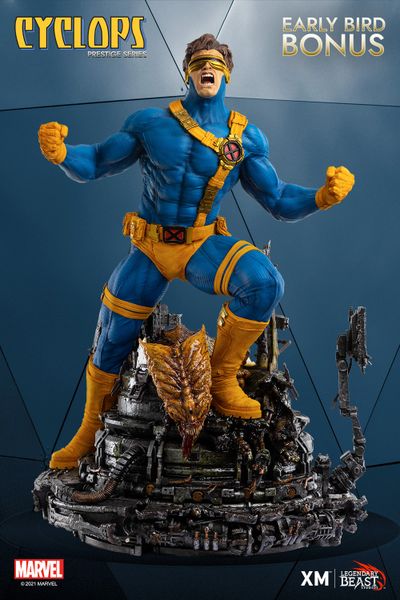 LBX 1/3 Cyclops - Prestige Series (Pre Order) with Early Bones before 17 Nov 2021
Pre-Order Opens: 3 Nov 2021, 6pm (UTC+8)
Pre-Order before: 17 Nov 2021, 12pm SGT (UTC+8) to receive early bird bonus! Details below
Legendary Beast Studios, in collaboration with XM Studios, is proud to present iconic X-Men Blue Team leader Cyclops, as the latest entry in its X-Men Prestige Series of 1/3 scale polystone statues.
Cyclops is locked in heated combat with his arch enemy Mr Sinister!  In the technologically advanced clone labs, Cyclops is firing his optic blasts in furious anger at his enemy. With a broken brood clone chamber behind him, Cyclops will continue to fight for what is right.
Born with the ability to fire optic blasts from his eyes, Scott Summers was the first student at Charles Xavier's School for Gifted Children. A firm believer in the Professor's dream, Scott Summers fights for human-mutant co-existence as Cyclops!

Early Bird Bonus – Pre-Order by 17 Nov 2021 (2 weeks only) and receive:
1 x Extra Head Blasting Upwards

 

1 x Swap Out Fisted Right Arm/Right-Half Torso Switchout

Cyclops Prestige Series Statue Features:
Highly detailed, fully-painted polystone statue, featuring Cyclops in his iconic Jim Lee costume.  He stands atop an intricate clone brood gestation chamber base, with exquisite battle damage detail.  Lying in a specialised green clear resin liquid effect, is the brood clone itself.
Built in light up function, recreates Cyclops' signature optic blast!
1 x Swap-Out Head Facing Forward Gritted Teeth
1 x Swap Out Head Facing Forward Screaming

Artists:
HMT Studios and Legendary Beast Studios (Illustration and Concept Design)
Romell Chopra (Sculptor)
Legendary Beast Studios (Master Painter)
Point Blank Studios (Packaging + Manual)
Engineering and Quality Assurance by XM Studios Team and Legendary Beast Studios
Product and Box Dimensions
​
Est. Product size (LxBxHt): 49 x 46 x 67cm
Est. Product Weight : 35kg
Est Box Size and Weight: TBA
Manufactured by: 
XM Studios
Note: Prototype shown and pending final approval, final product may differ. Batteries will not be included for products with light up features due to customs.
Deposit: 3600HKD
Free shipping for HK customers.