Might Jaxx Inked Stories: Medusa (Mono Edition) ft JPK (Pre Order)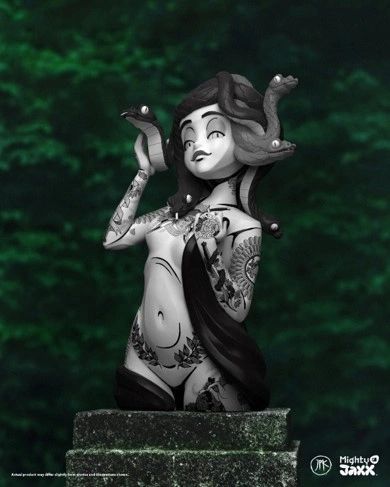 Might Jaxx Inked Stories: Medusa (Mono Edition) ft JPK (Pre Order)
JON PAUL KAISER
ARTIST
Jon-Paul Kaiser in an artist living in the heart of the UK. His work is renowned for the meticulous detailing of his hand painted tattooed toys, as well as his stark use of light and shade and an understated palette. The intricate tattoo graphics upon the figures weave tales of adventure and the characters heritage, as well as references to history, art and pop culture.
Be careful now—stare a little too long and you might just turn into stone. The mysterious Gorgon returns to life, keeping you—the bravest of them all—on your toes. Don't expect niceties, she's been through the wringer, and is back in new shades of gray and vengeance.
This Mono edition of Inked Stories: Medusa is sculpted from premium polystone, doing away with color treatment to bring you a monochromatic gaze that will have you thinking twice making eye contact. Her hair, full of snakes, comes in two shades of gray to accentuate the dread and intimidation she promises.
Product Details
8.3" Polystone Art Collectible

Product Status: Pre – Order
Estimated Shipping Date: May 2023
Deposit : 400HKD
Free shipping for HK customers