Might Jaxx Potato Head by Stella Peaches (Pre Order)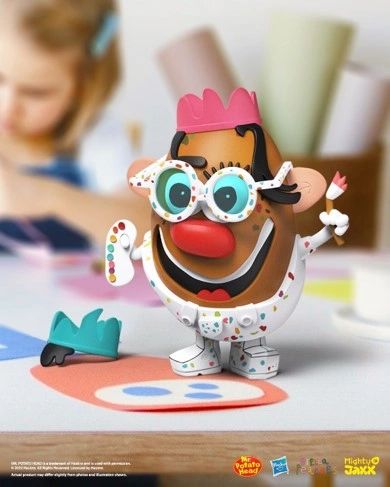 Might Jaxx Potato Head by Stella Peaches (Pre Order)
STELLA PEACHES
ARTIST
Stella Peaches is a young, aspiring artist who loves going to the studio with her dad and bringing her imagination to life. Her work has been featured on the streets of Paris and Montreal, where she gives her take on popular cartoon characters. Apart from drawing, painting, and coloring, she loves soccer as well as playing with her toys.
Mighty Jaxx collaborates with Hasbro and Stella Peaches to bring you a fun Potato Head design! The design by 9-year-old Stella Peaches comes to life in this sculpt. Featuring interchangeable crowns and removable glasses, you can style the fabulous Potato Head in three distinct ways!
All proceeds from the sales will be donated to a leading children's charity organization. Your support will go a long way in supporting the underprivileged children in our community!
Product Details
6.93" Vinyl Art Collectible (without crown) & 8" Vinyl Art Collectible (including crown)
Product Status: Pre – Order

Estimated Shipping Date: End May 2023
Deposit: 400HKD
Free shipping for HK customers