Might Jaxx 9" Mr. Twisty (Spooky Edition) by Jason Freeny (Pre Order)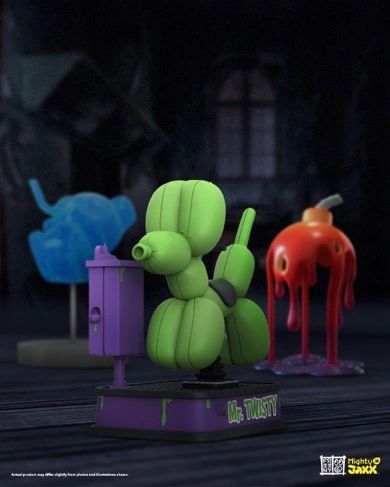 Might Jaxx 9" Mr. Twisty (Spooky Edition) by Jason Freeny (Pre Order)
Mr. Twisty (Spooky Edition) by Jason Freeny
JASON FREENY
ARTIST
Jason's early success as an artist came with his creations of a series fictional anatomical character schematics and illustrations in 2007 but was most noted when he began creating anatomical toy sculptures shortly after. His sculptural and illustration work has been the basis for several mass produced toys.

Armed with a youthful, overactive imagination, Jason creates smart, intricate works that tickle the deviant intellect through a mix of hard graphics, detailed anatomy, pop iconography and wit.
Cue the creepy sound of a piano playing the carnival tune in a minor key, off-tempo. This is accompanied by the mechanical noise of a kiddie ride rocking softly and steadily in the background. Look out, Mr. Twisty by Jason Freeny is back in a spooky edition!
Featuring an eye-catching sinister green and purple colorway, this collectible draws inspiration from the scary rides and haunted houses at theme parks. A mysterious goo also oozes from the base—who knows what it is exactly?
Product Details
9" Vinyl Art Collectible
SKU: ORG-22JFMTSE34
Product Status: Pre – Order
Estimated Shipping Date: End May 2023
Deposit: 600HKD
Free shipping for HK customers