Oniri Creation : Griffith - The Fallen Hawk (Pre Order)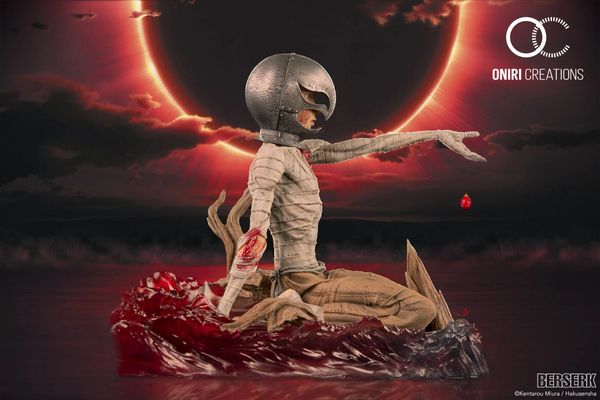 Oniri Creation : Griffith - The Fallen Hawk (Pre Order)
Name of the statue: Griffith - The Fallen Hawk
Dimensions: H17 x W25 x D19 cm
Edition size : 500 copies
Release date : Q2 2021
Presentation of the statue:
Key character in Kentaro Miura's story, Griffith « The Fallen Hawk » is the second
statue in our Berserk line.
Weakened and humiliated by the full year of torture he's had to endure, the leader
of the Band of the Hawk is now hardly the shadow of his former self. Turning point
for Griffith and the storyline in general, our statue depicts the moment when he
decides to sacrifice his companions using the demonic power of the Behelit. And as
a result starts the event known as the Eclipse.
- Griffith's base has been designed so that you can display it alone or with
Femto to create a diorama.
Limited to only 500 copies, each statue comes with its certificate of authenticity.
Description:
A very time-consuming sculpt and paint work was involved to translate the
character's immense suffering in statue form. Be it his helmet, token of his former
life as a leader, or the bandages covering his body, no details were spared to make
this a must-have in any Berserk collection.
Cast in clear resin,the base Griffith kneels on was painted in similar tones to
that of Femto's, allowing them both to be displayed together, forming a mesmerizing
diorama of the character's transformation.
Deposit: 520HKD
Free shipping for HK customers.