Oniri Creations 1/6 UFO ROBOT GRENDIZER PREMIUM STATUE - Sold out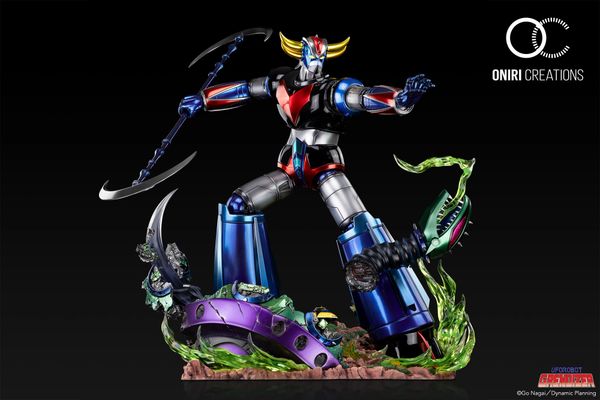 Oniri Creations 1/6 UFO ROBOT GRENDIZER PREMIUM STATUE - Sold out
DESCRIPTION
Comprised of nearly a hundred parts, 13 interchangeable parts and a large number of display options, we wanted to offer you the ultimate version of this classic robot. For example, you will have the choice of displaying Grendizer with his Screw Crusher Punch, or even removing the Saucer Beast head on his leg. For the first time we are offering a remote-controlled LED system for Grendizer's head and his Screw Crusher Punch.

Here is the list of all the displayable parts and options:

-2 busts (1 with the blades of the Double Harken, the other without the blades)
-2 hands (1 left hand open, 1 right fist closed)
-1 Screw Crusher Punch
-1 Double Harken
-2 pairs of alternative horns (metal horns, and classic yellow horns)
-1 TFO
-1 Saucer Beast head 
-1 additional leg part (to display without Giru Giru's head)
-1 removable transparent resin slashing effect
-1 remote control

Painted in a striking metallic finish, this very long and complex process demands the highest level of quality control at the factory. Each part is varnished using a two-component resin and then polished.
Whether it's Grendizer or his nemesis, no detail has been left to chance. This will allow you to see the "battle damaged" mechanical parts of the Saucer Beast. As for the TFO, you will have the possibility of placing it wherever you wish.

* A change has been made to the base of the horns. The production version will have the base of the horns black (like in the picture above).
SPECIFICATION
DIMENSIONS

H62 x W60 x D60

 

LICENSE

UFO Robot Grendizer

SCALE

1/50 (1/3rd human scale)

 

SCULPTORS

Pierre-Marie Albert, Luigi Stella

ESTIMATED DELIVERY

Q2 2022

 

PAINTERS

Kevin Ferrer, Logan Lebailly

CONCEPT

Oniri Creations

 

ART DIRECTION

Oniri Creations

SPECIAL THANKS

Frédéric Roux, Daniel Moreira




Deposit : 4000HKD

Free shipping for HK customers