PREMIUM COLLECTIBLES: LIZARD - Sold out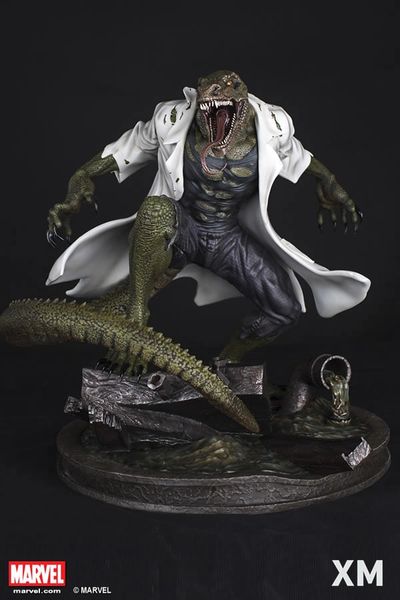 PREMIUM COLLECTIBLES: LIZARD - Sold out
LIMITED TO 500 PIECES WORLDWIDE 


"THAT, CHANGING LIKE THE SNAKE, I MIGHT BE FREE TO CAST OFF FLESH WHEREIN I DWELL CONFINED."
XM Studios is excited to present our next Marvel Premium Collectibles series statue, Lizard! The doctor who tragically turned into reptile monster is immortalized in amazingly detailed 1:4 scale cold-cast porcelain. Each painstakingly handcrafted statue is individually hand-painted with the highest possible quality finish. The vicious and ferocious monster has superhuman strength, razor sharp claws and teeth, with a tail powerful enough to shatter concrete. This premium collectible depicts Lizard in his sewage lair and hunting ground. Collect Lizard to complete the XM Sinister Six line up!
BACKGROUND:
Curt Connors was a gifted surgeon who went into a war to help his country. He performed "meatball" surgery on wounded GIs, but his arm was injured in a blast and had to be amputated. He eventually became obsessed with uncovering the secrets of reptilian regeneration, and studied reptilian biology extensively. Connors finally determined a serum taken from the DNA of a reptile. He had successfully regrown the missing limb of a rabbit, and, despite the warnings of his wife, chose to test it on himself. Connors ingested it, and his arm did indeed grow back. Unfortunately, it had one side effect: Connors was subsequently transformed into a reptilian monster and a regular enemy of Spider-man – Lizard!

THE LIZARD PREMIUM COLLECTIBLES STATUE FEATURES:
Two (2) interchangeable heads for alternate display
Crafted from cold-cast porcelain 
Limited edition : 500
Art print by Studio Hive
ARTISTS:
Studio HIVE (Illustrator, Design and Concept Collaboration with XM Studios)
Avinash Hegde (Sculpt)
XM Studios Design and Development Team

MANUFACTURED BY: 
XM Studios
NOTE: Prototype shown and pending final approval, final product may differ
Product size : TBA
Est. Box Size : TBA
Est. Product Weight : TBA
Est. shipping weight : TBA