PREMIUM COLLECTIBLES: WITCHBLADE (COMICS VERSION)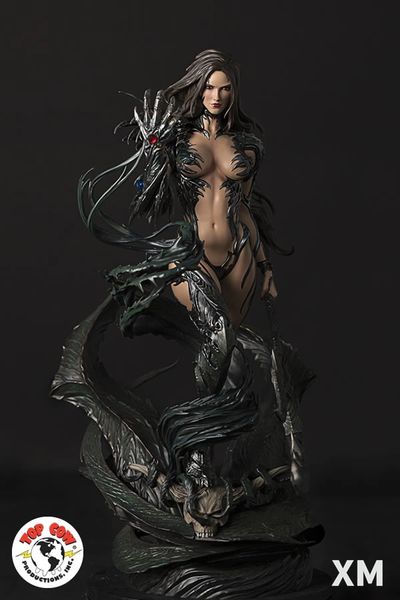 PREMIUM COLLECTIBLES: WITCHBLADE (COMICS VERSION)
XM Studios is excited to present our next Top Cow Universe Premium Collectibles series statue, Witchblade! The main protagonist of the comic series Witchblade is given the XM Studios treatment via amazingly detailed 1:4 scale cold-cast porcelain. Each painstakingly handcrafted statue is individually hand-painted with the highest possible quality finish. With intricate armor design and the ability to form a supernatural weapon, the first of the Top Cow line shows off the dangerous appeal of the current Witchblade bearer, Sara Pezzini!

BACKGROUND:
New York City Police Detective Sara Pezzini is the latest in a long line of bearers of the Witchblade, a mysterious artifact that takes the form of a deadly and powerful mystical gauntlet. Bound by destiny, the Witchblade chooses one woman in a generation, who must stand between the forces of Light and Dark and preserve The Balance. Now Sara must try to control the Witchblade and uncover its secrets, even as she investigates the city's strangest, most supernatural crimes.

THE WITCHBLADE PREMIUM COLLECTIBLES STATUE FEATURES:
Two (2) interchangeable portraits
Two (2) interchangeable arms (one with weapon) for alternate display
Crafted from cold-cast porcelain
Limited Edition: 600
ARTISTS:
Studio HIVE (Illustrator, Design and Concept Collaboration with XM Studios)
David Giraud (Sculpt) & alternate portrait (calm face) by George Georgy
XM Studios Design and Development Team

MANUFACTURED BY:
XM Studios
Product size : TBAcm H X TBAcm L X TBAcm B
Est. Box Size : TBAcm H X TBAcm L X TBAcm B
Est. Product Weight : 7.9kg
Est. shipping weight : 14.6kg
Can ship to World wide. Only HK and Macau are shipping free.
NOTE: Prototype shown and pending final approval, final product may differ