QS 1/1 Justice League Darkseid Life-Size Bust (Pre Order)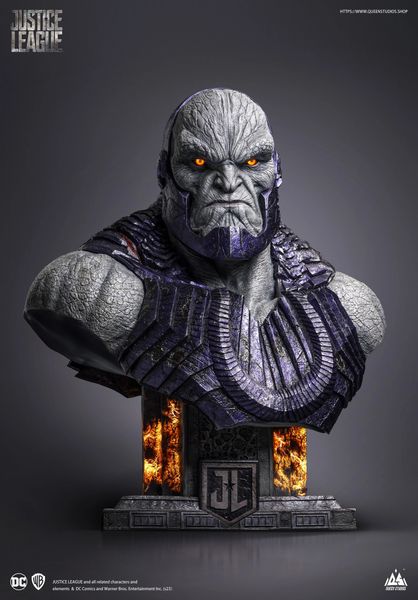 QS 1/1 Justice League Darkseid Life-Size Bust (Pre Order)
Queen Studios is thrilled to introduce the new Darkseid life-size bust inspired by the the supreme villain's début in Zack Snyder's Justice League. 
Queen Studios' team of artists have studied the Snydercut film meticulously to instil the Darkseid 1/1 bust with remarkable movie accuracy. Expertly sculpted, the limited edition collectible captures Darkseid staring forward with a hostile gaze. The team's skilfull painters have worked tirelessly to recreate his Apokoliptan armor with fine weathering and a dark metallic hue. His skin is also perfectly textured, creating a life-like affect making this a must have piece for DC fans.
The 1/1 Queen Studios Darkseid bust features internal lighting in his eyes bringing the character to life with a menacing expression. 
But the special features do not stop there. The base includes an additional light up feature that makes the realistic rock look like molten earth, with fire and flames simmering within. To the rear of the base, the team have designed a miniature statue of the Dark God sat on his throne leaning forward with a malevolent stare.
Deposit: 8000HKD
Free shipping for HK customers