QS 1/4 Black Adam On Throne (Pre Order)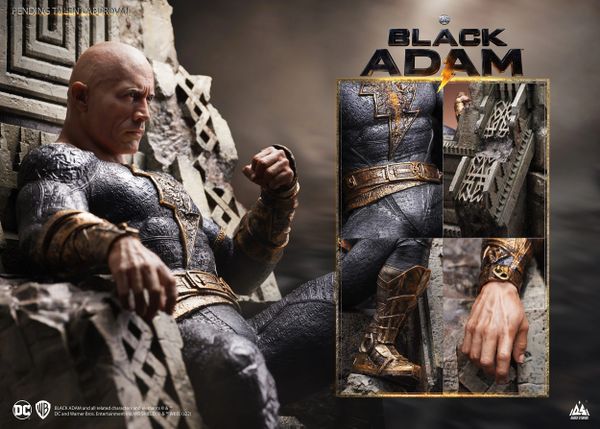 QS 1/4 Black Adam On Throne (Pre Order)
PRODUCT INFORMATION
*Material: Resin, PU
Product Size: 53cm (H) x 62cm (W) x 47cm (D)
Estimated Delivery Time: Q4 2023
Edition Size: 596 *Full list of materials will be listed on the product web page.
----------------------------------------------------
About the Character
Black Adam is an all-powerful entity also known as Teth-Adam! Almost 5,000 years ago, in the Middle Eastern country of Kahndaq, Teth-Adam took on an oppressor king and then disappeared. Now, with Kahndaq mercenary-ruled, Black Adam is re-awakened where he must face both the modern world and his own past. Queen Studios are happy to announce a new addition to our DC collection, this 1/4 scale Black Adam statue.
About the Statue
This 1/4 scale Black Adam statue is a Queen Studios first Black Adam collectible. The statue captures Teth-Adam sat on an the Kahndaq throne. Adam is sat clenching his left fist as his right fist hangs casually off the throne. Adam wears his iconic black outfit with a dirtied golden belt and forearm braces. His left leg is lifted off the floor and rested on debris.
Statue and Base
This 1/4 scale Black Adam statue stands at 53cm tall and is crafted in resin. This Black Adam statue captures the likeness of Teth-Adam (Dwayne Johnson) with incredible accuracy.The base of this statue is made to resemble an Ancient Kahndaq throne room. The golden bolt sat on Adam's chest includes internal LED lighting to bring Black Adam to life once more.
Deposit: 2400HKD
Free shipping for HK customers