QS 𝗜𝗡𝗔𝗥𝗧 𝟭/𝟲 𝗦𝗖𝗔𝗟𝗘 𝗣𝗘𝗡𝗡𝗬𝗪𝗜𝗦𝗘 𝗖𝗢𝗟𝗟𝗘𝗖𝗧𝗜𝗕𝗟𝗘 𝗙𝗜𝗚𝗨𝗥𝗘 Deluxe Ver (Pre Order)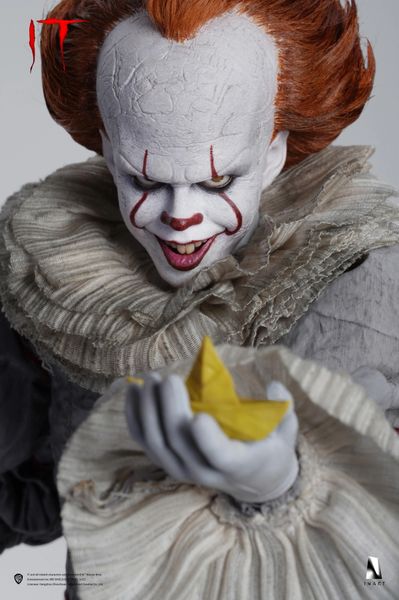 QS 𝗜𝗡𝗔𝗥𝗧 𝟭/𝟲 𝗦𝗖𝗔𝗟𝗘 𝗣𝗘𝗡𝗡𝗬𝗪𝗜𝗦𝗘 𝗖𝗢𝗟𝗟𝗘𝗖𝗧𝗜𝗕𝗟𝗘 𝗙𝗜𝗚𝗨𝗥𝗘 Deluxe Ver (Pre Order)
𝗗𝗲𝗹𝘂𝘅𝗲 𝗘𝗱𝗶𝘁𝗶𝗼𝗻
Accessories: Classic rooted hair sculpt ×1, Variation rooted hair sculpt ×1, Grey show suit ×1, Clown shoes ×2, hands ×2, Balloon grabbing Hands ×2, Clenched fist hands ×2,
Claw right hand ×1, Pointing right hand ×1, Red colored balloon ×1, Paper boat ×1, Map ×2, Residence photo ×1, Performance ticket ×1; Stage base ×1, Base background plate ×1, Individual head sculpt display box ×1, Movable eyes ×2
---------------------------------------------------
𝗔𝗯𝗼𝘂𝘁 𝘁𝗵𝗲 𝗖𝗵𝗮𝗿𝗮𝗰𝘁𝗲𝗿
Serving as the main antagonist of the Novel IT, Pennywise, also known as IT is a shape-shifting creature known as a Glamour, a creature thought to be billions of years old. IT originated in a void outside the regions of space known as the Macro-verse, but has lived on Earth for many years deep below Derry, Maine. Pennywise awakens every 27 years preying on the town's children, feeding on their fears.
𝗔𝗯𝗼𝘂𝘁 𝘁𝗵𝗲 𝗙𝗶𝗴𝘂𝗿𝗲
Following the release of INART 1/6 Gandalf the Grey collectible figure, we are excited to introduce a new addition to our 1/6 scale figure collection, Pennywise (IT). This IT collectable showcases the clown on a theatre stage. Crafted to look like he is perched upon a shabby wooden stage with red velvet curtains hanging behind it, Pennywise stares forward menacingly at it's prey.
𝗙𝗶𝗴𝘂𝗿𝗲 𝗮𝗻𝗱 𝗕𝗮𝘀𝗲
This life-like 1/6 scale figure captures Pennywise (IT) with stunning accuracy, sparing no detail with the clothing and character likeness. Pennywise stands on a stage which has a double-sided background, allowing the collector to choose how they want to present IT. This one-of-a-kind collectable features switch-out hands, two head-sculpts, it also includes a toy paper boat and balloon. To pay homage to the original 1990 miniseries and the more recent 2017 movie; the team have included a map of the town where the story is set, and a classic circus advertisement.
---------------------------------------------------
How has the 1/6 Pennywise collectible figure turned out? Let us know your thoughts as always.
Deposit: 700HKD
Free shipping for HK customers.