QS JURASSIC WORLD DOMINION: 1/1 BETA (Pre-Order)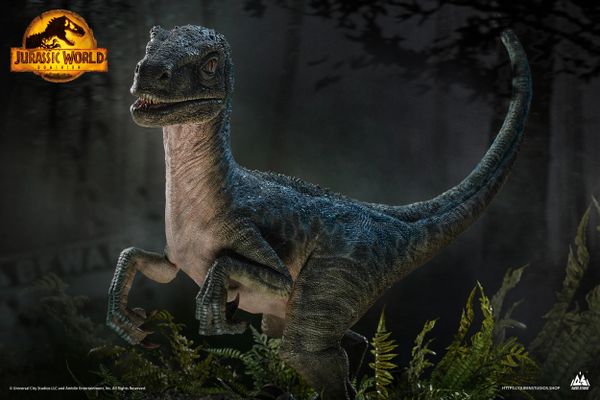 QS JURASSIC WORLD DOMINION: 1/1 BETA (Pre-Order)
JURASSIC WORLD DOMINION: BETA LIFE-SIZE STATUE BY QUEEN STUDIOS
----------------------------------------------------
PRODUCT INFORMATION
*Material: Resin, PU, Artificial Plant
Product Size: 97cm (H) × 81m (W) × 77cm (D)
*Full list of material will be listed on the product web page.
----------------------------------------------------
About the Character
Beta was born sometime in the four years after the 2018 Dinosaur Outbreak. She lived together with her mother in the wild. Beta is the image of her mother Blue, not just in her appearance but also in her nature. There are minor differences between Beta and Blue, Blue's eyes are smaller, and Beta's snout is stubbier than her mothers. Although Beta is Blue's daughter, she was created asexually to access the the DNA used to create Blue. 
About the Statue
This 1/1 life size Beta statue is a first for Queen Studios. It is a life-size replica of the prehistoric dinosaur seen in Jurassic World: Dominion. Beta is stands between two small ferns, a plant as ancient as her. Her front claws are raised to her chest. Two beautiful blue stripes follow both sides of her spine, from her eyes to the tip of her tail. Every facet of this beast has been accounted for in this life-size model, every reptilian scale has been accurately recreated in pain-staking detail. 
Statue and Base
This statue's base is of similar design to our previous Jurassic World statue, it is made up of three tiers, two metal plates surrounding an luminous tier. On the face of the base is Beta's name and the logo of Jurassic World: Dominion. The statue stands at 97cm tall and is crafted from resin.
Deposit: 7000HKD
Free shipping for HK customers