QS TERMINATOR 2: T800 Life-size Bust (Pre-Order)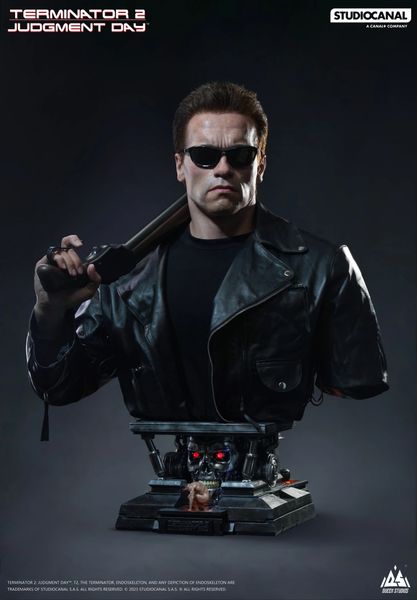 QS TERMINATOR 2: T800 Life-size Bust (Pre-Order)
New Items from Queen Studios for Wonder Fest Shanghai 2023!!!!
We are thrilled to introduce our latest masterpiece that will grace Wonder Festival 2023 - the awe-inspiring T-800 Life-Size Bust!
Inspired by the classic scene from James Cameron's Terminator 2: Judgement Day. This 1/1 life-size bust captures the T-800 (Arnold Schwarzenegger) gripping a Winchester 1887 shotgun, clad in leather and donning his iconic sunglasses. The head sculpt has been meticulously crafted to capture the character's likeness with remarkable accuracy.  
ABOUT THE BASE
Our design philosophy extends to the base, and the T-800 bust's base is no exception. The front of the base draws inspiration from the movie's opening shot of the T-800, while the rear design pays homage to the movie's final scene featuring this iconic character. Each element of this collectible is thoughtfully constructed to capture the essence of the T-800's legacy.
------------------------
𝗣𝗥𝗢𝗗𝗖𝗨𝗧 𝗜𝗡𝗙𝗢𝗥𝗠𝗔𝗧𝗜𝗢𝗡
Material: Resin, Silicone, Genuine Leather
Product Size: 94CM (H) × 76CM (W) × 55CM (D)
Estimated Delivery Date: Q4 2024
Edition Size: 299
------------------------
Deposit: 13800HKD
Free shipping for HK customers.