Queen Studio 1/ 1ron Man Mark 44 Statue (Pre Order) - Shipping cost not included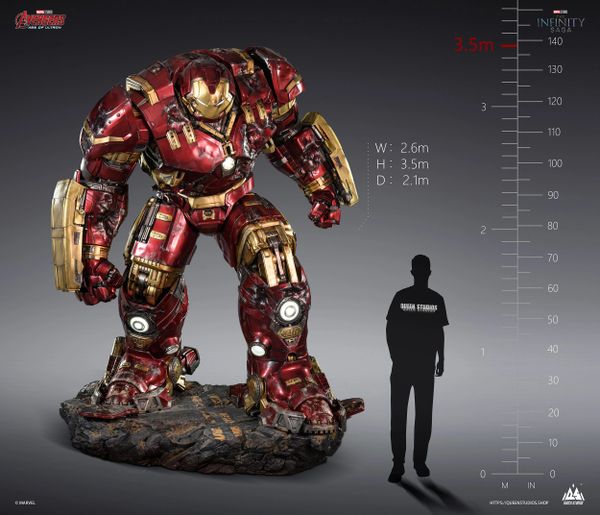 Queen Studio 1/ 1ron Man Mark 44 Statue (Pre Order) - Shipping cost not included
PRODUCT INFORMATION
Product: Iron Man Mark 44 Life-size Statue
License: Marvel
Size: 3.5m (H) × 2.6m (W) × 2.1m (D)
Est. Delivery: 9-12 months after deposit paid
About the Character
To release the Scarlett Witch's hold on the Hulk's mind. Stark has no other choice than to bring in the big guns, the MARK 44 commonly referred to as the HULKBUSTER. A suit of armor that was designed to do one thing, stop the hulk from causing complete and utter chaos. The Mark 44 is an Extra-Duty Modular Armor. The Armor was created specifically by Stark and Banner to stop the Hulk. The MK44 is three feet taller than the hulk making it the largest model yet.

About the Statue
This one is a first for Queen Studios... A FULL-SIZE MARK 44! This goliath stands 3.5 meters tall and includes incredibly detailed battle damage, internal lighting and the iconic Iron Man red and gold color scheme. Just like the 1/4 Hulkbuster, the MK44 marches forward menacingly with a jaw dropping presence. The 1/1 MK44 is the perfect display piece for those looking to create a one of a kind display. 
Notes
In terms of the shipment, we will cover the local shipping freight from our factory to the warehouse of your freight forwarder. If any parts are damaged during transportation, we will also cover the local shipping fee for the replacement within China Mainland. 
The installment procedure and other detailed matters that need attention will be sent when the Statue is ready to ship. As the statute is quite huge, please make sure to notify the related cautions to customers when pre-order. (Please see more info in the attached image.) 
Deposit: 225000HKD
Shipping cot not include for this item.