Queen Studios TGIF No.2 1/3 Statue By Evan Lee (Pre Order)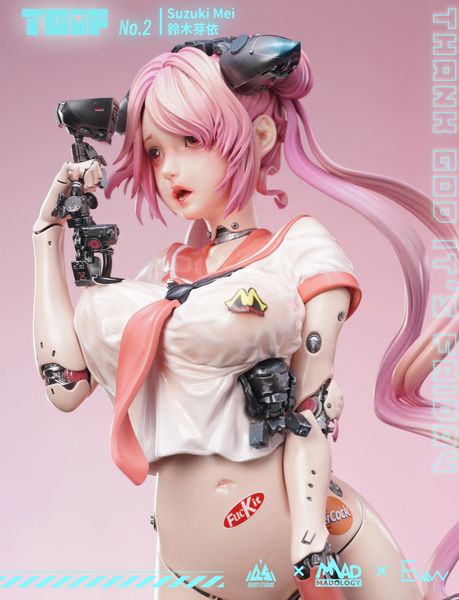 Queen Studios TGIF No.2 1/3 Statue By Evan Lee (Pre Order)
PRODUCT INFORMATION
Product: TGIF NO.2 1/3 Statue By Evan Lee
Series: Thank God It's Friday
Brand: Queen Studios & Madology
Size: 49cm (H) × 21cm (W) × 18cm (D)
Edition Size: 500
Est. Delivery: Q3, 2023
MARKETING COPY
About the Character
The year is 2082. It has been 40 years since a terrible and deadly virus took hold of civilisation. In this dystopian world, humanity has established three layers of underground societies. In one of these underground layers TGIF was created as an adult entertainment company. Each TGIF cyborg can be found underground and identified by their numbers.

About the Statue
TGIF No.2 is a character created by Evan Lee, an illustrator from Taiwan, brought to life in partnership with Queen Studios and Madology. TGIF No.2, was once a human, a scholar who was proficient in mechanics and computer science. However, her death was met in an unfortunate burglary. Her body was later transformed into the cyborg known as TGIF. No.2. 

Statue and Base
This statue stands at 49cm tall and is crafted from resin. No.2 is holding a briefcase filled with toys in her left hand. She is wearing a white t-shirt, black stocking and glossy black shoes. She has bright pink hair, and her mechanical insides can be seen at the bodies various joints. The statues base is crafted to resemble No.2's mechanical insides, it's a black, squared podium, with various pink panels.
Deposit: 2200HKD
Free shipping for HK customers