Queens Studio 1/7 𝗝𝗨𝗥𝗔𝗦𝗦𝗜𝗖 𝗪𝗢𝗥𝗟𝗗 𝗗𝗢𝗠𝗜𝗡𝗜𝗢𝗡: 𝗕𝗟𝗨𝗘 & 𝗕𝗘𝗧𝗔 Suit (Statue + Logo Ornament) Pre Order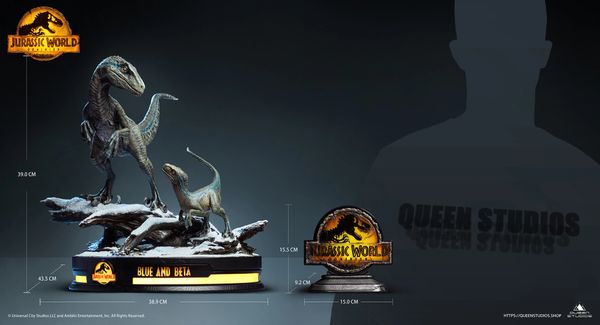 Queens Studio 1/7 𝗝𝗨𝗥𝗔𝗦𝗦𝗜𝗖 𝗪𝗢𝗥𝗟𝗗 𝗗𝗢𝗠𝗜𝗡𝗜𝗢𝗡: 𝗕𝗟𝗨𝗘 & 𝗕𝗘𝗧𝗔 Suit (Statue + Logo Ornament) Pre Order
This Set only available until 16 6 2022 GMT +8
𝗣𝗥𝗢𝗗𝗨𝗖𝗧 𝗜𝗡𝗙𝗢𝗥𝗠𝗔𝗧𝗜𝗢𝗡
1/7 Blue and Beta
Size: 39cm (H)x 38.9cm (W) x 43.5cm (D)
Jurassic World Logo Ornament
Size: 15.5cm(H)x 15cm(W)x 9.2cm(D)
---------------------------------------------------
𝗔𝗕𝗢𝗨𝗧 𝗧𝗛𝗘 𝗖𝗛𝗔𝗥𝗔𝗖𝗧𝗘𝗥𝗦
It's been four years since the destruction of Isla Nebular, dinosaurs now hunt-and-live alongside humans all over the world. This fragile balance will reshape the future and finally determine whether or not humans will remain the dominant species on a planet in which they now share with history's most terrifying apex predators. 
𝗔𝗕𝗢𝗨𝗧 𝗧𝗛𝗘 𝗦𝗧𝗔𝗧𝗨𝗘
Running and hunting together, the Velociraptor mother and her child, a smaller version of Blue that looks just like her. They're running, continuing to discover this new world together. Stood on a platform of wood, covered by snow, they gaze into each other's eyes as they explore. They both have an unmistakable blue strip with white contour on their back. Their skin is blue-gray in color, like mother like daughter. This frozen terrain is now their home.
𝗔𝗕𝗢𝗨𝗧 𝗧𝗛𝗘 𝗕𝗔𝗦𝗘
This Base has includes the Jurassic World logo with the iconic Jurassic Park font with Blue and Beta's name just to the right. On the back of the base there are two control buttons, one is to turn on the lighting feature which illuminates the iconic logo, while the other can be used to turn on the chilling Velociraptor sound effect.
Deposit: 1600HKD
Free shipping for HK customers.