Queens Studio 1/6 SHIRYU STATUE (Pre Order) - Special Offer before 28th Aug 2022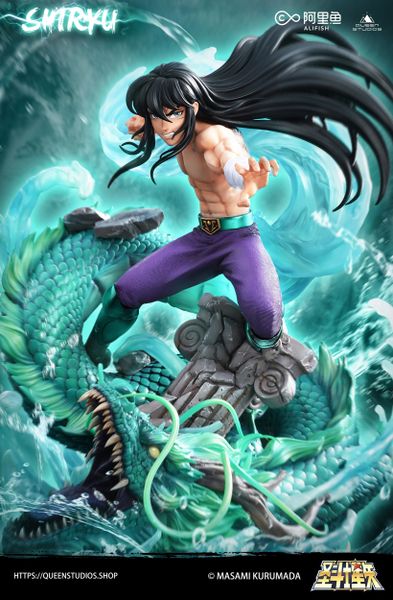 Queens Studio 1/6 SHIRYU STATUE (Pre Order) - Special Offer before 28th Aug 2022
Material*: Resin, PU
Product Size: 39CM (H) x 28CM (W) x 31CM (D)
Estimated Delivery Time: Q4 2023
Edition Size: 499
About the Character
Dragon Shiryū, or just Shiryu, is a bronze saint of Dragon. Considered the most mature of the five heroes, Shiryu is also the calmest, most collected and even the wisest. As the Bronze Saint of the Dragon constellation, Shiryu wears the emerald Dragon Bronze Cloth, highly prized among the Cloths due to its legendary defensive properties.
About the Statue
Queen Studios' 1/6 Shiryu statue is based on the incredible character from the Japanese manga series Saint Seiya. 
In this sixth scale statue, the team have depicted Shiryu in the "Lushan Dragon Flying" style, with steely eyes, rippling muscles and and iconic tattoo captured with impeccable detail. His fists clenched and ready to go, the dragon roars beneath splashing layer upon layer of waves. The rock bursts at the sound! 
About the Base
The Base is composed of roaring green dragon and exploding waves of water. The dragon scales and rippling waters are finely sculpted. The colour gradually changes naturally, setting the scene perfectly for one of the most action packed statues from the Queen Studios collection.
Deposit: 2300HKD
Free shipping for HK customers.