Spiral Studio Godzilla 1984 Statue (pre-order )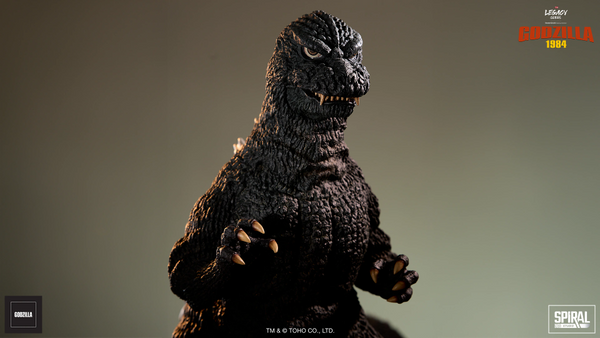 Spiral Studio Godzilla 1984 Statue (pre-order )
Spiral Studio proudly presents the fourth release from "The Legacy Series", with Godzilla 1984 that started the great Heisei Godzilla Era.
Tanaka Kenichi-Sensei is back again with another masterpiece. TLSTK-GZ001: Godzilla 1984 is sculpted with highest precision to bring about the most accurate version of Godzilla 1984 in the market. Every wrinkle, recess, fold, and shape from the actual suit used in Shinjuku Battle scene is meticulously replicated on this statue, giving you the finest details with rubbery feel to the texture, just like our Godzilla 2001.
Our in-house artisans at Spiral Studio also paid the absolution attention to the painting process where we depict all the smallest hue of color like dark cyan on the outer layer of the suit, deep brown on the folded parts of the skin, dusty wash in the crevices throughout Godzilla's entire body. The blood vessels on the eyes are also hand-painted to maintain the naturalistic look to them.
Our Godzilla 1984 will be manufactured with highest-quality PVC to ensure that our craftsmanship is faithfully reproduced and what you see here is what you will receive. Having mentioned that, this product line is to honor the long legacy of Godzilla created by Toho, and realized into the finest statue by the most fitting artists. So when you purchased our statue, you are guaranteed with the quality, accuracy, and legacy of our sculptors woven into Godzilla's history.
*Our Godzilla 1984 will be limited to 299 pieces as we intend to maintain quality over mass production.
Pre-order Starts: Nov 15, 2023 - 10:00 A.M. (GMT+7, BKK Time) Est. Arrival: Q 2 2024
Dimensions: H 52 x L 81.7 x W 61 cm.
Materials: PVC
Sculptor: Tanaka Kenichi
Edition Size: 299
Deposit : HKD$1600
Free Shipping for HK Address