Gaming Legends : Heavenly Sword – Nariko Ex ver (Sold Out)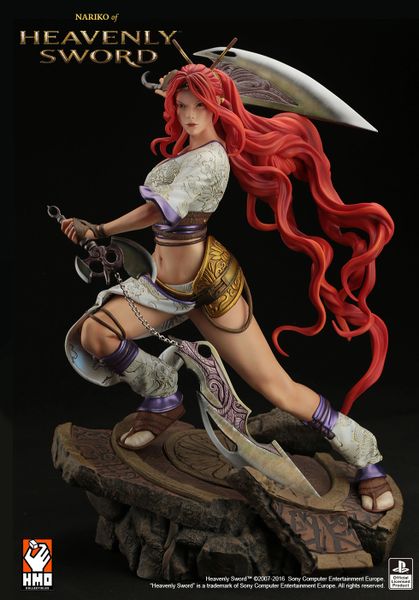 Gaming Legends : Heavenly Sword – Nariko Ex ver (Sold Out)
Nariko is the main protagonist of the game Heavenly Sword. She is a beautiful, yet fierce 23-year-old who belongs to a clan called Shen, which is lead by her father. An ancient prophecy foretold that a son would be born to the chief on a certain day, and would act as a saviour to the clan; when Nariko, a daughter, was born on that day instead, it was considered an intensely bad omen and a failure of the prophecy. She was shunned by the clan and was even blamed for their misfortunes. Despite the resentment she felt towards her clan, Nariko protects them with her life.

Nariko is recreated here in luscious details using the highest standards of materials available to the market. Nariko is depicted Holding the Heavenly Sword in mid action pose. The powerful yet elegant pose brings out Nariko's character in every way.
We put extra care in re-creating her outfit with the silken gown effect and the subtle pattern on her dress , to add to the details and texture of the overall sculpt.
Every piece of H.M.O's Nariko of Heavenly Sword is hand crafted to perfection by passionate individuals, and we take great care in delivering the highest quality possible with no expenses spared.
PRODUCT DETAILS:
License:
Sony Computer Entertainment Europe
Scale:
1/4 Scale Poly-Resin Statue
Normal Edition Size:
199
EX Edition Size:
100
Manufacturer:
Hand Made Object Limited
Product Height:
48 cm
Product Shipping Size:
Est. 57cm x 50cm x 38cm
Product Shipping Weight:
Est. 8kg
Feature Material:
Crafted from cold-cast porcelain
Hand Crafted to Perfection
ARTISTS:
Sculpt:
Marthin Augusta
Concept:
Art Direction:
HMO Design and Development Team