Toylaxy (Monster) Frankenstein - Pre Order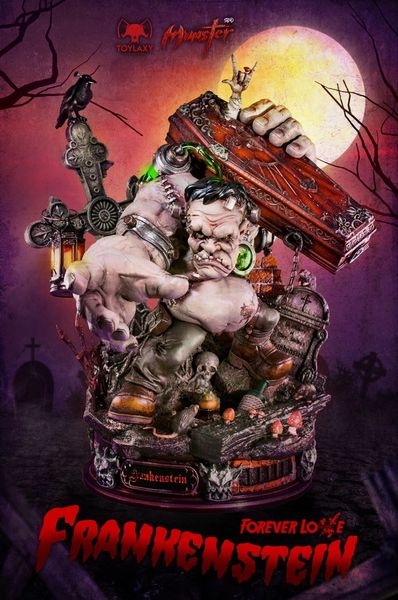 Toylaxy (Monster) Frankenstein - Pre Order
Limited to 300pic (World Wide)
27cm Tall.
Frankenstein Forever Love Concept  Idea : 
The first idea of making this Frankenstein was to make it cool in the way that people never haven't seen before. Firstly i want him to carry a big cross not a coffin but then coffin seem to be cool. i want to mix all the styles together like Gothic and Victoria plus a little bit of Steam Punk and then add some 70-80 Tattoo style. i really dont want to use only one style i want it to be free to make it more FUN. Another cool idea is the bride's hand, firstly i was afraid that every in the team might not like this idea but they are also crazy in love with the idea.
Lastly great thank to Thailand Statue Group to help me sharp up the base idea to make it more cool luxury and classic.Thank you Toylaxy Team, Watchara Boonpokkrong and Geng Gi for complete this work without any complains for 100 time of correcting.
More Monsters will come to you !! let have a look at Werewolf Mummy and Creature.
 Toylaxy Digital Art Director
Chayanin BadangStudio Onima
We want to make the statue that is not too big like 40-60 cm tall that you might not have a space to show anymore but we want to make it around 30-35 cm tall. The Premium Statue that you can place it on your desk and the statue that can really tell the story not just the post but really tell the audience something.This Frankenstein is all about LOVE. That why we name him "Frankenstein Forever Love"  The story is he dig his soon to be wife grave then pick her up and will destroy anyone who come in his way. The fun part is we really don't know if the wife is happy or not so we let audience to decide by giving two hands ( Love You hand sign and F-ck you hand sign ) This work is really show our identity as Toylaxy which has to be unique and fun with story.
 Managing Director
Mike Tinmanee 
This is a work that contain a lot of detail. It is the work that has madness, fun, and romantic in it.
Art Director & Hand Sculptor
Watchara Boonporkrong
To scultp this Never Seen Before Frankenstein was a very challenged task for me. A lot of references and researches including new 3D scultpting tactic that i had to do to make this Monster as real and as fun as posible.   
3D Director
Geng Gi
Shipping service 100HKD is for HK only , other country please enquiry.