XM 1/10 Galvatron (Pre Order) Before 1st May 2023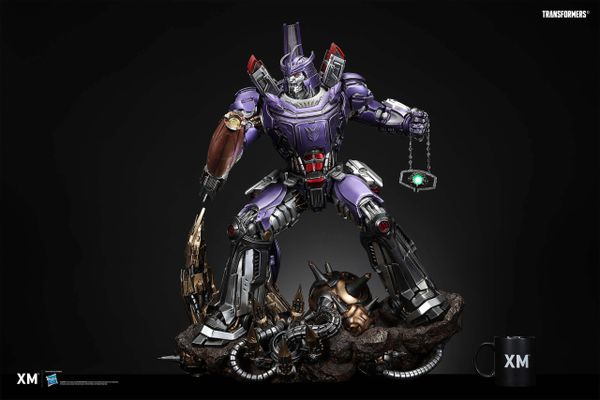 XM 1/10 Galvatron (Pre Order) Before 1st May 2023
"PUNY AUTOBOT!"
Presenting the next statue from XM's well-loved Transformers line, Galvatron!
Crafted from scratch, every nut, bolt and wire is lovingly designed and sculpted ground up by a team madly in love with the G1 era of Transformers cartoons. Each painstakingly handcrafted statue comes individually hand-painted with XM's famous quality finish, and is presented in a bold, dynamic, and story-laden style.
Transformers fans will no doubt remember several iconic moments from the movie when it aired in the late 80s. With this statue, the XM Team drew inspiration from the battle scene between Hot Rod and the herald of Unicron for the Matrix of Leadership, which eventually culminated with the birth of a new Prime.
A ruthless leader, Galvatron would not think twice before releasing an onslaught of firepower capable of reducing powerful Autobots and Decepticons alike to scrap. Portrayed here standing within a Unicron-inspired base with a menacing sneer and featuring 4 arm switch-outs, collectors will be able to display Galvatron holding on to the Matrix of Leadership or with it hanging around his neck while shooting forward.
This statue also comes with an alternate mode that collectors will be able to display alongside Galvatron.
Character Background
Mortally wounded during his fight with Optimus Prime, Megatron was left to float aimlessly through space by Starscream. Summoned by Unicron the Chaos Bringer, he was upgraded into Galvatron to acquire and destroy the Autobot Matrix of Leadership.
#Transformers #Decepticon #Galvatron
Statue features:
·        Highly detailed sculpt featuring Galvatron on a Unicron-inspired base
·        Four (4) arms: 2 left arms and 2 right arms
·        Galvatron's alternate mode
·        Matrix of Leadership, adjustable chain
·        Light-up eyes
·        Crafted in polystone
·        Each painstakingly handcrafted statue is individually hand-painted with the highest possible quality finish
Artists:
Filipe Bento Ribeiro De Souza (3D)
XM Studios Design and Development Team
Manufactured by:
XM Studios
Note: Prototype shown and pending final approval, final product may differ. Batteries will not be included for products with light up features due to customs.
Product and Box Dimensions (LxBxH)
​
Product Size: 70*55*75cm
Est. Box Size: 75*90*48cm
Est. Product Weight: 33kg
Est. Shipping Weight: 37kg
Deposit:  4800HKD
Free shipping for HK customers
HK$16,800.00
HK$15,700.00