XM 1/4 Aphrodite IX (Pre Order)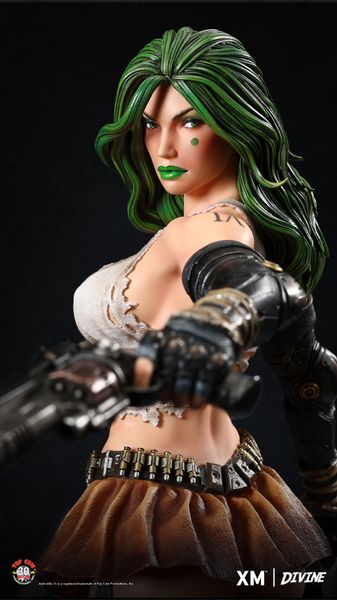 XM 1/4 Aphrodite IX (Pre Order)
XM Studios is excited to present Aphrodite IX, our latest collaborative project with Divine! and Top Cow. This statue comes alive with an infusion of XM Studios' signature craftsmanship. The bold and daring pose is supported with a storytelling base that pays homage to her nostalgic comic book run in the early 2000s.
To achieve our renowned XM quality, each painstakingly hand-crafted statue is meticulously hand-painted and rigorously checked for their quality.
On top of her signature Kelly green make-up and hair, special care has also been taken to bring out textures and details found all over Aphrodite's costume.  We knew that for us to depict her in the heat of a battle, these details would be crucial to the storytelling.
No expense was spared in the creation of her peripherals either.  From the futuristic dual weaponry and ammo belt to the amalgamated base that represents the cybernetic decadence found in the pages of the comic, everything was crafted with the utmost attention so as to bring this cybernetic assassin to life.
We hope this art piece will bring you back, and allow you to reminisce about the vibrancy of Top Cow's comic book aesthetics found in the early 2000s. Because that is what we had in mind when crafting it.
Character Background:
Hundreds of years after a cataclysmic event scorched the surface, Earth and its inabitants have been forever altered and a new landscape and political struggle has taken hold between two distinct factions fighting for control. Aphrodite IX is both anachronism and advanced technology in a world that she no longer recognizes. To survive in this future, she must choose sides in a war that she wants no part in.
Read more: https://topcow.com/aphrodite-ix/

The Aphrodite IX Premium Collectibles statue features:
Highly detailed sculpt featuring Aphrodite IX
Crafted in polystone
Each handcrafted statue is individually hand-painted with high-quality finish
Artists:
XM Studios Design and Development Team (2D)

Tiago Zenobini de Souza (3D)
About Divine:
Divine is a labor of love born from a lifelong obsession of heavy metal, comic books and pop culture. Divine seeks to deliver the most iconic characters in statue form, bringing the horrors and the beauties of each and every character to life in glorious detail never seen before. For all international orders please visit Divine.
Manufactured by: 
XM Studios
Product size : 40 cm  L X 33cm B X 54cm Ht
Est. Box Size : 64cm L X 60cm B X 22cm Ht
Est. Product Weight : 8kg
Est. shipping weight : 10.5kg
Note: Prototype shown and pending final approval, final product may differ
Deposit: 3000HKD
Free shipping for HK customers