XM 1/4 Batman (Dark Nights: Death Metal) (Pre Order)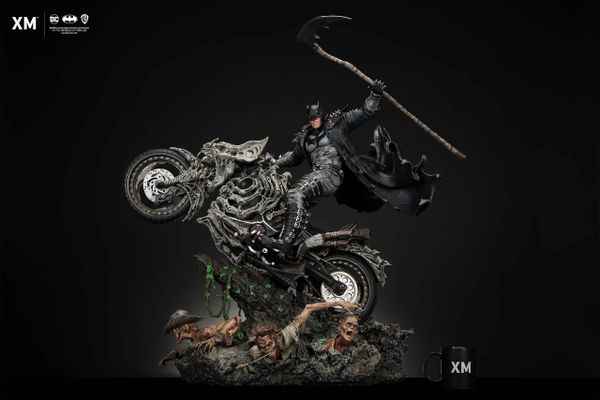 XM 1/4 Batman (Dark Nights: Death Metal) (Pre Order)
XM Studios is excited to present our next ¼ scale DC Premium Collectibles statue, Batman (Dark Nights: Death Metal)! Each statue is individually hand-painted, comes with XM's famous quality finish, and is presented in a bold, dynamic, and story-laden style.
This highly detailed ¼ scale statue depicts Batman riding atop a gnarly bone-encrusted motorcycle across a hellish landscape, shredding the very ground it treads upon! Through a mysterious Black Lantern power ring worn on the same hand that wields a wing-shaped scythe, he raises armies of the dead in a relentless war against The Darkest Knight's never-ending onslaught of havoc and destruction together with Wonder Woman and Superman.
And while it is clear Batman has gained the power of resurrection through this mysterious ring, another question comes to mind… Just how is he able to do this?
Character Background
Humanity struggles to survive in a hellish landscape twisted beyond recognition, and Wonder Woman, Batman and Superman are trapped in nightmare worlds within the Dark Multiverse!
Read more at https://www.dc.com/graphic-novels/dark-nights-death-metal-2020/dark-nights-death-metal-deluxe-edition
#DC #Batman
Features:
One (1) highly detailed sculpt featuring Batman on a motorcycle

Crafted in Polystone

Each painstakingly handcrafted statue is individually hand-painted with the highest possible quality finish
Artists:
Riccardo Federici (2D)

Suheryanto Hatmaja (3D)

XM Studios Design and Development Team

Manufactured by: 

XM Studios




Note: Prototype shown and pending final approval, final product may differ. Batteries will not be included for products with light up features due to customs.




Product and Box Dimensions

​

Product Size: 78*48*87cm

Est. Box Size: 80*68*40CM




Est. Product Weight: 26kg

Est. Shipping Weight: 30kg




Deposit : 5700HKD

Free shipping for HK customers