XM 1/4 Darth Revan (Pre Order) <Procurement Service>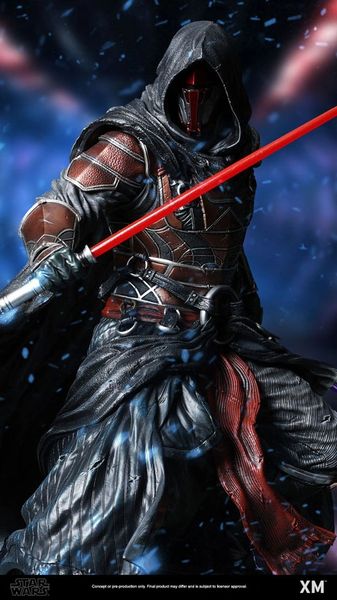 XM 1/4 Darth Revan (Pre Order) <Procurement Service>
XM Studios is excited to present our 1:4 STAR WARS Premium Collectibles series statues under Star Wars Legends Series. Within this series, XM will present iconic and favourite characters that exist within the Star Wars Legends. The first releases from Star Wars Legends... all the way from the Old Republic, we have a sith lord legends, Darth Revan.
Background
Darth Revan was the Dark Lord of the Sith who turned into a redeemed and retrained Jedi during the Jedi Civil War. Darth Malak was Darth Revan's Sith apprentice but usurped Revan mantle of Dark Lord.

Collectors have the choice to purchase Darth Revan and Darth Malak in a set or purchase them individually.



Darth Revan Star Wars Legends Features:
Option to display purple lightsabre in a reverse grip or forward grip
2 right hand switch-out
1 holding the red lightsabre and 1 with his hand stretched, using the Force.
Light up base
Crafted in cold cast porcelain.
Each handcrafted statue is individually hand-painted with the high-quality finish.

Artists:
Foo Tze Wei (2D)
Marthin Agusta Simny (Sculpt)
XM Studios Design and Development Team
 
Pre-Order Direct from XM here or from our Official Retailers:
Thailand: Toys King
Malaysia: Big Bang Toyz
Philippines: Great Toys Online
Indonesia: Toyzcorner | GZToystore | Live4Toys
Vietnam: Isokoma | Toysphere

Estimate Product Dimension (LxBxHt) and Weight:

Darth Revan: 45*50*49cm, 10KG


Estimate Box Dimension and Weight:

Darth Revan: 83*66*30.5cm, 21kg
Order before 5th June will come with Plaque .
Deposit : 2400HKD
Free shipping for HK customers