XM 1/4 DC Green Lantern - Kyle Rayner (Pre Order)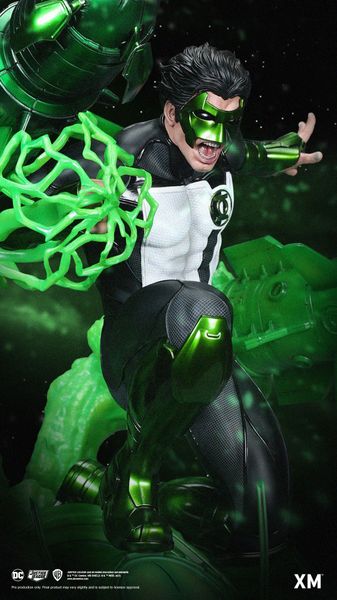 XM 1/4 DC Green Lantern - Kyle Rayner (Pre Order)
Pre-Order Opens: 22 Sep 2021, 6pm (UTC+8)
Pre-Order before 6 Oct 2021, 12pm SGT (UTC+8) to receive a collectible Display Plaque of Kyle Rayner as your early bird pre-order gift!

Presenting the next in line from XM's DC Comics 1:4 scale premium collectibles line, Green Lantern – Kyle Rayner!

One of the most powerful lanterns who took up the torch, Kyle Rayner half-kneels atop the robot construct that he has created, mid-yell, poised for battle, his concentration at maximum as he wills the construct to existence, launching two rockets towards the target. A moment in battle immortalised. Paired with his talents as a skilled artist, Rayner's creative constructs are amongst the strongest among the corps. The unique paint application on the high tech robot construct shows the transitionary formation of the construct, the nuances from green to metallic green, giving it a highly dynamic quality fitting for the torch-bearer.

Features:
Features Kyle Rayner in action atop his robot construct in mid battle.
Unique paint application and dynamic colours of the robot construct
Crafted in cold cast porcelain.
Each handcrafted statue is individually hand-painted with the high quality finish

Artists Involved:
Rafa Sandoval (2D)
Fabiano Carlos Coelho and Joshua Wu (3D)
XM Studios Design and Development Team

Manufactured by: 
XM Studios
Note: Prototype shown and pending final approval, final product may differ. Batteries will not be included for products with light up features due to customs.
Product and Box Dimensions
​
Estimated Product Size (LxBxHt): 38*43*60cm
Estimated Product Weight : 27 kg 

Estimated Box Size (LxBxHt): 95*75*40cm
Estimated Shipping Weight : 30 kg 
Deposit: 2400HKD
Free shipping for HK customers