XM 1/4 Details on Marvel - Venom (Arise) - Pre Order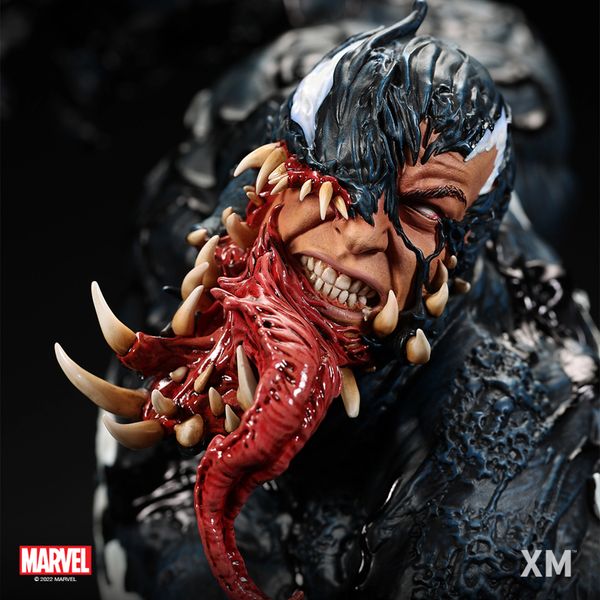 XM 1/4 Details on Marvel - Venom (Arise) - Pre Order
XM Studios is excited to present our next 1/4 scale MARVEL Premium Collectibles series statue, Venom (Arise). Each painstakingly handcrafted statue is individually hand-painted with XM's famous quality finish, and comes in a bold, dynamic, and story-laden style.
Venom is seen lunging forward in a beast-like manner, a posture that conveys its aggressive and unrestrained brutality. This dynamic movement is further elaborated with its right claw clutching on the fallen statue as it braces to launch an attack forward. The base of statues reflects Eddie Brock's journey from a villain arising to an antihero as a lethal protector. The musculature of Venom is defined through the treatment via paint application, showcasing the details and fluidity of the symbiote.
Featuring 3 head sculpts, collectors can choose between the portrait with tongue out,  Eddie Brock transformation, or the gaping mouth portrait.
Character Background
Venom has a twisted sense of morality, avoiding harming anyone he deems to be innocent and even performing heroic deeds. However, it is never clear how long Venom's darker impulses can be held in check. No matter how hard anyone tries to keep the symbiote down, Venom always manages to come back. Read more at https://www.marvel.com/characters/venom-eddie-brock/in-comics 
Venom Arise Premium Collectibles statue features:
Three (3) head sculpts: 1 with tongue out, 1 Eddie Brock transformation, 1 gaping mouth
May have additional switchout parts for base to reduce statue footprint
Highly detailed sculpt featuring Venom (Arise) standing on statues with symbiote tendrils

 

Crafted in Polystone

 

Each painstakingly handcrafted statue is individually hand-painted with the highest possible quality finish
ES: MTO Max 699
Artists:
Kucharek Brothers (2D & 3D)
XM Studios Design and Development Team
Manufactured by:
Product and Box Dimensions
Product Size (Est.):
56CM X 70CM X 86CM
Box Size (Est.):
Box A: 80CM X 65CM X 50CM
Box B: 80CM X 70CM X 38CM
Product Weight (Est.):
27kg
Shipping Weight (Est):
35kg
Note: Prototype shown and pending final approval, final product may differ. Batteries will not be included for products with light up features due to customs.
Deposit: 3500HKD
Free shipping for HK customers