XM 1/4 Lady Deadpool (Pre-Order) Before 22 Jun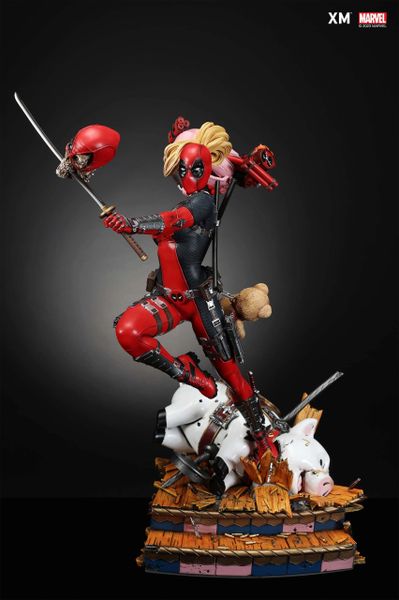 XM 1/4 Lady Deadpool (Pre-Order) Before 22 Jun
XM Studios is excited to present our next 1/4 scale MARVEL Premium Collectibles series statue, Lady Deadpool! Each painstakingly handcrafted statue is individually hand-painted with XM's famous quality finish, and comes in a bold, dynamic, and story-laden style.
Lady Deadpool, also known as Wanda Wilson, shares many characteristics with her male counterpart, such as her witty sense of humor, fourth-wall-breaking abilities, and combat skills. She became a mercenary and crossed paths with Deadpool, who recruited her into the Deadpool Corps, a team of alternate-universe versions of Deadpool.
The Lady Deadpool statue depicts a fully masked Wanda in her signature red and black suit. On her left, she holds a katana with Headpool attached to it while on her right she holds a backpack strapped with dynamites, ready to fling it at her enemies.
Designed to be a companion piece to XM's Deadpool, it features a similar merry-go-round amusement ride thematic base with a destroyed seat. Collectors can look forward to a third member of the Deadpool Corps completing the set!
Lady Deadpool Premium Collectible Features:
• Highly detailed sculpt of Lady Deadpool on a destroyed merry-go-round
• Crafted in polystone
• Each painstakingly handcrafted statue is individually hand-painted with the highest possible quality finish
Artists:
• Rafa Sandoval (2D)
• Pablo Vicentin (3D)
• XM Studios Design and Development Team
Manufactured by:
XM Studios
Note: Prototype shown and pending final approval, final product may differ. Batteries will not be included for products with light up features due to customs.
Product and Box Dimensions
Est. Product Size: 40 x 50 x 63cm
Est. Box Size: 70 x 68 x 28cm
Est. Product Weight: 12kg
Est. Shipping Weight: 14kg
Deposit : 3000HKD
Free shipping for HK customers