XM 1/4 Rouge w/Plaque (Pre Order)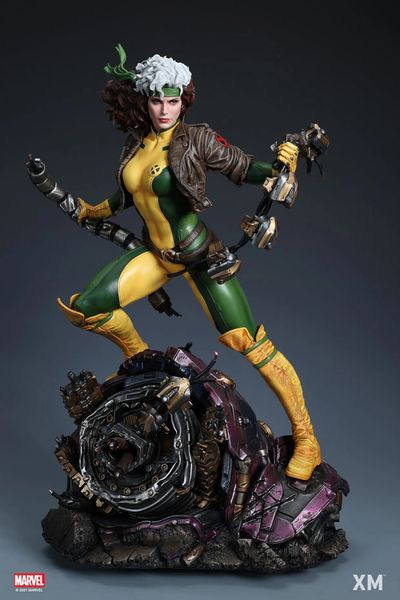 XM 1/4 Rouge w/Plaque (Pre Order)
XM Studios is excited to present our next 1:4 MARVEL Premium Collectibles series statue, Rogue! 
Pre-Order opens 25 May 2021, Tuesday 6pm (UTC+8).
Pre-Order before 8 Jun 2021, 6pm SGT (UTC+8) to receive a Rogue collectible Display Plaque as your early bird pre-order gift.

Background
"Without the capacity to control her mutant ability to absorb memories and powers, the young woman known as Rogue was once on a dark path. However, Rogue has successfully redeemed herself as a heroine and become a leader among the X-Men and the Avengers…" Read more at https://www.marvel.com/characters/rogue/in-comics

Features:
Rogue in battle as the X-Men faces Sentinel.
2 Head-Sculpt: 1 with a determined face, 1 with a smile
3 Left forearm switch-out: 1 holding ripped parts from a Sentinel, 1 holding a charged ace of hearts card as she borrows Gambit's powers, 1 with a metallic armored hand with unsheathed bone claw (Wolverine and Colossus' powers that she has absorbed and borrowed)
Crafted in cold cast porcelain.
Each handcrafted statue is individually hand-painted with the high-quality finish.

Artists:
Riccardo Federici (2D)
Marthin Agusta Simny (Sculpt)
XM Studios Design and Development Team

Product Size: 37*30*51cm, 9kg
Box Size: 69*59*33.5cm, 19kg
Deposit : 2400HKD
Free shipping for HK customers