XM 1/4 Super-Skrull (Pre Order)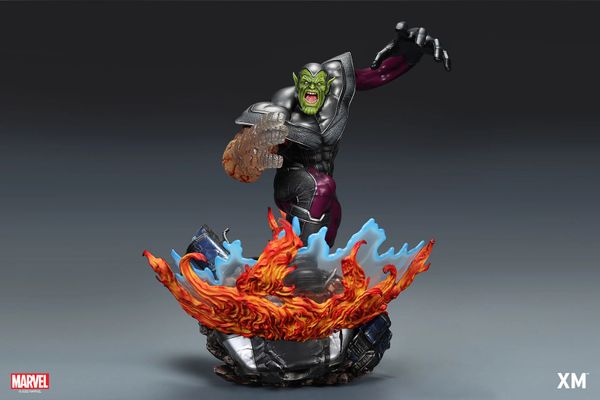 XM 1/4 Super-Skrull (Pre Order)
XM Studios is excited to present our next 1:4 MARVEL Premium Collectibles series statue, Super-Skrull.
This is the first licensed Super-Skrull statue in the market at this scale. Each painstakingly handcrafted statue is individually hand-painted with XM's famous quality finish, and comes in a bold, dynamic, and story-laden style.
After an experimental space flight had exposed them to cosmic rays, the Fantastic Four emerged as more than just Super Heroes—they're the first family of the Marvel Universe. Their feats include stopping an attempted invasion of Earth by the Skrulls, an alien race with natural shape-changing powers. The aftermath of that attempted invasion saw Skrull Emperor Dorrek investing vast resources into creating a superbeing of his own. K'lrt, a decorated soldier and warrior of the Skrull empire, was chosen to undergo a process that endowed him with all the powers of the Fantastic Four, except, when powered by an interstellar beam, far stronger.
Here, Super-Skrull is seen leaping into action while displaying the might of his combined powers. Standing on a destroyed and battle-worn Fantastic 4 spaceship, his left-arm is shown displaying the elastic properties of Mister Fantastic, forming a bent arm with elongated fingers as he prepares to reach forward in a battle-ready stance.
His right arm is seen taking on The Thing's unique rock-like appearance, beginning from the top of his shoulder to the base of his hand, with his fingers starting to turn translucent. The prowess of the Invisible Woman's abilities is further exemplified here with a self-generated force field rising upwards from Super-Skrull's right foot— turning him into an even more effective combatant— as he uses it to shield himself while wrapping the force field with the Human Torch's fearsome and devastatingly destructive flames.
An additional left-arm switch out features the elongated arm coated entirely in flames, with the right-arm completely taking on The Thing's rock-like appearance, allowing collectors to switch out his look. Super-Skrull also comes with 1 additional head switch out, where he is displaying a contemptuous and mocking smile.
Background
Reed Richards, Ben Grimm, Susan Storm, and her brother, Johnny Storm, were forever changed during an experimental space flight that exposed them to cosmic rays, which gave them super human powers and abilities.
All four friends survived the experience, but Reed found his body had taken on elastic properties that allowed him to change his size and length. Susan gained the ability to turn invisible while Johnny attained control over fire. Tragically, Ben's enhanced strength and durability gave his skin and body a rock-like appearance that robbed him of the ability to pass as a human. Despite the sudden turn of events, the quartet realised the potential of their powers and chose to become a team.
When the Super-Skrull first confronted the Fantastic Four, he bested them with their own abilities until Mister Fantastic identified the power source beamed from the Skrulls home planet and created a jamming device, depriving the Super-Skrull of his powers. Read more at:
https://www.marvel.com/characters/super-skrull


Features:
2 headsculpt (1 will be unveiled soon)
Two (2) Portraits: 1 displaying a battle-ready face, 1 displaying a contemptuous and mocking smile
Two (2) Right-Arms: 1 featuring the arm in transition between a rocky physique and a translucent state, 1 featuring the arm with a rock-like balled fist
Two (2) Left-Arms: 1 in an elongated state, 1 clad in flames
Highly detailed sculpt featuring Super-Skrull standing on top of a destroyed Fantastic 4 spaceship
Crafted in Polystone

Each painstakingly handcrafted statue is individually hand-painted with high quality finish

 
Artists:
InHyuk Lee (2D)
Leo Sakamoto (3D)
XM Studios Design and Development Team

Estimated Product details: 61*63*67cm, 30kg
Estimated Box A Dimensions: 90*64*35cm
Estimated Box B Dimensions: 90*90*25cm
Total weight: 40kg
Manufactured by: 
XM Studios
Note: Prototype shown and pending final approval, final product may differ. Batteries will not be included for products with light up features due to customs.
Deposit: 3000HKD
Free shipping for HK customers.