XM 1/4 The Batman Who Laughs w/plaque (Pre Order) <Procurement Service> ES666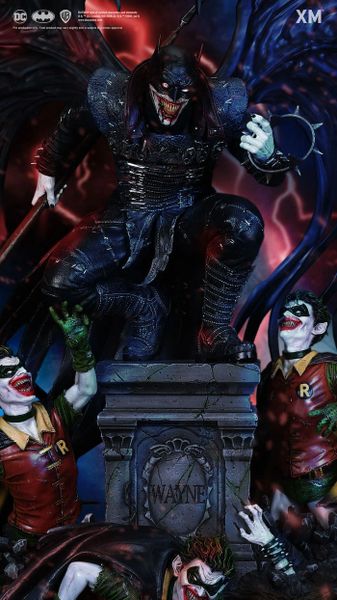 XM 1/4 The Batman Who Laughs w/plaque (Pre Order) <Procurement Service> ES666
XM Studios is excited to present our first 1:4 DC Premium Collectibles Dark Knights Metal Series statue, The Batman Who Laughs! Immortalized in detailed 1:4 scale cold-cast porcelain. Each handcrafted statue is individually hand-painted with high quality finish.

Pre-Order opens 10 Jul 2021, Sat, 6pm (UTC+8)
Pre-Order before 24 Jul 2021, 6pm SGT (UTC+8) to receive a collectible Display Plaque as your early bird pre-order gift!

Hailing from the Dark Multiverse, The Batman Who Laughs is the evil counterpart of Batman, a jokerized version of Batman who killed The Joker in his multiverse.

A deadly combination of Bruce Wayne's tactical intellect, The Joker's amorality and thirst for chaos, The Batman Who Laughs is Batman's worst nightmare, a version of himself who has lost all moral code and ethics, unrestrained in his madness.
In this 1:4 statue, The Batman Who Laughs crouches atop the tomb of Bruce Wayne, a metaphorical representation of the death of his past moral code and the rules that once bind him, now unshackled. Within his chains, he leashes his 3 Rabid Robins, eager to devour and feast at the drop of a command.
Take a closer look at the base and you will see a hand reaching from beneath the grave, its wrists adorned with spiked bracelets; Dark Robin is never far away...

Features:
3 Head Sculpt: 1 with the visor removed, 1 grinning, 1 laughing
4 Left hand switch out: 1 holding spiked visor, 1 holding Batarang, 1 holding knife, 1 holding on chains
2 right hand switch out: 1 holding scythe, 1 holding on chains
Wings switch-out, collectors can choose to display Batman with wings or without.
Crafted in cold cast porcelain
Each handcrafted statue is individually hand-painted with the high quality finish
ES: MTO Max 699

Artists:
Riccardo Federici 
Alvaro Bernardes Cota Ribeiro, Joshua Wu (Sculpt)
XM Studios Design and Development Team

Product and Box Dimensions ​

Estimated Product Size (LxBxHt): 67*50*75cm
Estimated Product Weight: 16kg

Estimated Box Size (LxBxHt): 89*69*47.5cm
Estimated Box Weight: 30kg
Deposit: 2400HKD
Free shipping for HK customers