XM 1/4 The Four Horsemen - War (Pre Order) ES 200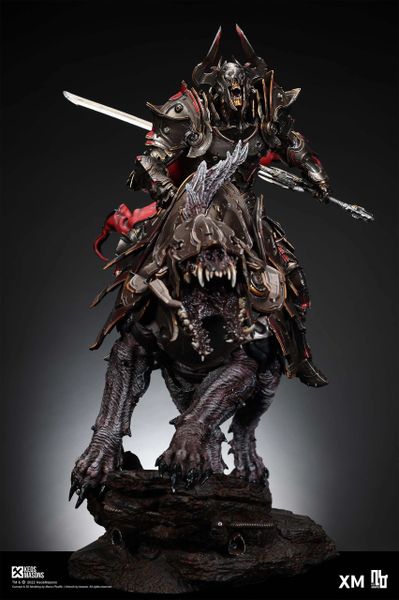 XM 1/4 The Four Horsemen - War (Pre Order) ES 200
Metal Plaque Early Bird Gift

Submit your early bird order qty to Ben via Whatsapp 
by 11 November 2022, 12noon SGT (UTC+8)
. These orders are qualified to redeem the metal plaque
Presenting War, XM's first ¼ scale statue from The 4 Horsemen line, a unique collaboration with renowned 3D concept design and character modelling company, Keos Masons. Based on characters set in the Neo-Apocalypse world, each statue is presented in a bold, dynamic, and story-laden style.
The 4 Horsemen serve as effigies of destruction and vengeance— the symbols of an uprising that continue to scour the earth. In this scene, War is mounted on a fearsome beast with his red cape billowing in the wind while wielding a claymore aptly named "Ragnarok". Battle-thirsty and aggressively marching forward against his sworn enemies, the humans, he is seen encased in a set of heavy armour while standing amidst piles of concrete and steel, a visible and nostalgic remnant of human civilisation.
Collectors can choose between 2 head switch-outs. The first one features War with a wide-open jaw, exuding a strong rage as he stares forward into the battlefield. With this switch-out, you can almost hear his grating battle-thirsty roar as he charges forward, ready to pounce on the humans. The second one features War with an angry and vicious gaze, along with clenched teeth, lending him the air of a seasoned general leading his troops to battle.
Each statue is individually hand-painted and comes complete with XM's famous quality finish.
Character Background
"So came the first, clad in rigid plates crafted by us – its creators, though now hardened by a preternatural aura and strengthened by daemonic whispers.
As the horseman rode up it spoke, the message coming as a convulsive affront to the senses.
There were no sounds, there were no words, only a siege of horrific divination.
It said it was War. It had come to free our creations in the name of the created. And as the legions of slaves we once commanded overtook us, our mistakes were made all too clear..."
Read more at neo-apocalypse.com
#XMStudios #NeoApocalypse #The4Horsemen #War
The statue features:
Two (2) head sculpts – 1 head with a wide-open jaw and 1 head with vicious red beaming eyes with clenched teeth 
Crafted in Polystone
Each painstakingly handcrafted statue is individually hand-painted with the highest possible quality finish
Artists:
Marco Plouffe (2D and 3D)
XM Studios Design and Development Team
Manufactured by:
XM Studios
Note: Prototype shown and pending final approval, final product may differ. Batteries will not be included for products with light up features due to customs.
Product and Box Dimensions
Est. Box Size: 75*60*38cm (Box A) 75*60*38cm (Box B) 
Est. Product Weight: 36kg
Est. Shipping Weight 42kg
Deposit: 3500HKD
Free shipping for HK customers