XM 1/4 The Thing (Pre Order)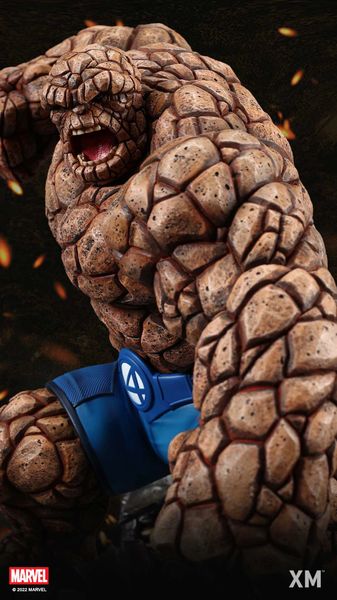 XM 1/4 The Thing (Pre Order)
XM Studios is excited to present our next 1:4 scale MARVEL Premium Collectibles series statue, The Thing. Each painstakingly handcrafted statue is individually hand-painted with XM's famous quality finish, and comes in a bold, dynamic, and story-laden style.
The Thing is seen in battle mode, standing on a destroyed Fantastic Four spaceship and ready to throw a punch. His rock appearance is made up of rocks of various sizes with smaller rocks at joints, neck, and face. XM Team used rock formation to create his anatomy, resulting in a realistic and clearly defined musculature. The interplay between shadows and highlights define the crevices, further accentuating the realistic rocky skin texture. Decked in Fantastic Four's iconic blue uniform design, XM Team modernized the shorts with textured panels and added piping details on the edge and down the side.
The Thing comes in 2 head sculpts – one displaying a smirking, confident look, and one displaying a raging battle mode. Collectors can choose to display it either as a standalone piece or with Super Skrull to depict a dynamic mid-battle scene.
Character Background
Reed Richards, Ben Grimm, Susan Storm, and her brother, Johnny Storm, were forever changed during an experimental space flight in a stolen rocket that exposed them to cosmic radiation giving them superhuman powers and abilities. All four of them survived but tragically Ben Grimm's enhanced strength and durability muted his skin and body into a super-strong rock appearance which robbed him of the ability to pass as a human. He turned into a monster with a ''Heart of Gold'' defending the innocent, fighting evil and joining forces as Fantastic Four saving the world from science-based threats.
The Thing Premium Collectibles statue features:
Two (2) head sculpts: 1 displaying a smirking look and 1 displaying a raging battle mode
Highly detailed sculpt featuring The Thing standing on a destroyed Fantastic Four spaceship
Crafted in Polystone
Each painstakingly handcrafted statue is individually hand-painted with the highest possible quality finish
ES: MTO 599
Artists:
Inhyuk Lee (2D)
Leo Takeshi Sakamoto (3D)
XM Studios Design and Development Team
Manufactured by:
Product and Box Dimensions 
Product Size: Est. 54.2CM X 39CM X 36.5CM
Box Size: Est. 77CM X 61CM X 30CM
Product Weight: Est. 20kg
Shipping Weight: 23kg
Note: Prototype shown and pending final approval, final product may differ. Batteries will not be included for products with light up features due to customs.
Deposit: 3000HKD
Free shipping for HK custoemrs
---