XM 1/6 Recovery Suit Superman - Rebirth (Pre Order)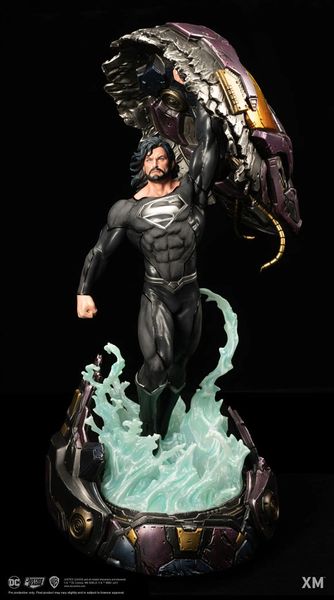 XM 1/6 Recovery Suit Superman - Rebirth (Pre Order)
XM Studios is excited to present our next 1:6 DC Premium Collectibles DC Rebirth series statue, Recovery Suit Superman! Immortalized in amazingly detailed 1:6 scale cold-cast porcelain, each handcrafted statue is individually hand-painted with the high-quality finish.
Size matters, but Quality even more so! The new XM DC 1:6 line is specially designed for collectors who desire more space-friendly collectibles, without compromising on the incredible details and quality of larger collectible pieces. At 1:6 scale, XM's creative direction is to showcase more abilities, powers and essence of the characters in a bold, dynamic and story telling style. The new XM 1:6 DC line will amaze you with the details you don't expect at this scale. Smaller scale, smaller boxes, more affordable shipping and pricing means you can fit more of these incredibly detailed collectibles into your collection!


Description:
Superman - "Though his powers make him god-like next to his human compatriots, Superman's story is not one of greed or conquest. Instead, he strives to represent the inherent goodness of the human spirit, and the capacity of every living thing to do right by their neighbors." read more here
Recovery Suit Superman - Rebirth Premium Collectibles statue features:
Superman breaks away from the Kryptonian Regeneration Matrix in his recovery suit, back in full health and ready to take on the world.
2 Headsculpts: 1 bearded with long black hair, 1 clean shaven with Superman's iconic kiss-curl
Crafted in cold cast porcelain.
Each handcrafted statue is individually hand-painted with high-quality finish
ES: MTO (MAX 599)
 
Artists:
Riccardo Federici
Alan Sales (Sculpt) 
XM Studios Design and Development Team

Manufactured by: 
XM Studios
Note: Prototype shown and pending final approval, final product may differ. Batteries will not be included for products with light up features due to customs.
Product and Box Dimensions
​
Est. Product size (LxBxHt): 29*23*51cm
Est. Product Weight : 6 kg 

Est. Box Size (LxBxHt): 61*46*35.5cm
Est. Shipping Weight : 14.5 kg 
Deposit 600HKD
Free shipping for HK customers