XM 1/4 Colossus - Pre Order (Sold Out)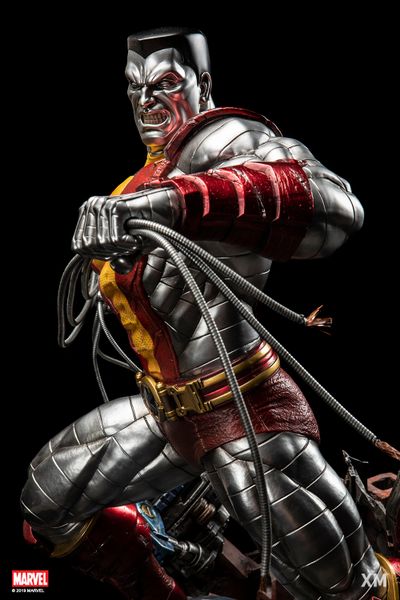 XM 1/4 Colossus - Pre Order (Sold Out)
XM Studios is excited to present our next Marvel Premium Collectibles series statue, Colossus! The strong man from X-Men is immortalized in amazingly detailed 1:4 scale cold-cast porcelain. Each painstakingly handcrafted statue is individually hand-painted with the highest possible quality finish. A must have to any X-Men fan, add Colossus to your collection today!
Background:
Colossus - Growing up on his parents' farm, Piotr Rasputin saw his older brother Mikhail become a Cosmonaut. Mikhail was later discovered to be a latent mutant with energy warping powers, and to keep him secret the government faked his death. In later years, Piotr learned that he too was a mutant, and could transform his flesh into steel, but he was content to use his powers to help his fellow farmers. ..… read more at https://www.marvel.com/characters/colossus-piotr-rasputin
The Colossus Premium Collectibles statue features:
Showcasing Colossus in his armoured organic steel form, grabbing Sentinel's core by its cables using his superhuman strength as he readies to take on whoever is on the other side of the battlefield.

Crafted from cold-cast porcelain 

Limited edition : MTO

Art print by Carlos Dattoli 
Artists:
Studio HIVE (Illustrator, Design and Concept Collaboration with XM Studios)

Philip Herman (Sculpt)

XM Studios Design and Development Team

Manufactured by: 
XM Studios
Note: Prototype shown and pending final approval, final product may differ. Batteries will not be included for any XM products with lighting features due to shipping and customs restrictions.
Product size : 60 cm  L X 40 cm B X 62 cm H 
Est. Box Size : 95.5 cm L X 55.5 cm B X 35 cm H
Est. Product Weight : 14 Kg
Est. shipping weight : 25 kg
Free shipping for HK Customers.
Deposit 2400HKD.