XM 1/4 Cyclops (Version A ) - Sold out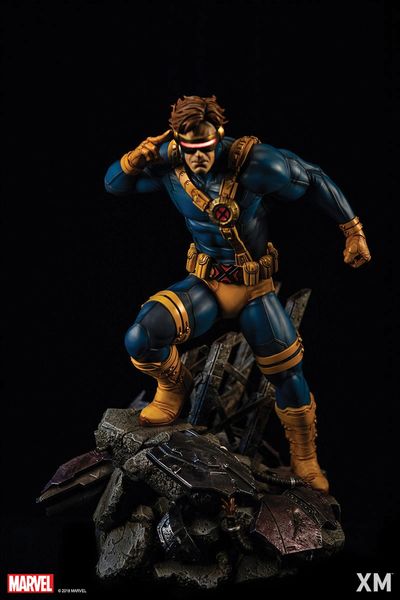 XM 1/4 Cyclops (Version A ) - Sold out
"THE PROFESSOR USED TO TELL ME. THE MOST IMPORTANT PART OF LEADING WASN'T PERSONALITY, TACTICS, OR TRAINING. IT WAS DOING WHATEVER IT TAKES TO GET YOUR TEAM BACK ALIVE. BRING THEM BACK, SAM. EVERY ONE OF THEM."
XM Studios is excited to present our next Marvel Premium Collectibles series statue, Cyclops (Version A)! Recognized as a leader of the X-Men, Cyclops is immortalized in amazingly detailed 1:4 scale cold-cast porcelain. Each painstakingly handcrafted statue is individually hand-painted with the highest possible quality finish. With light up Visor to simulate his famous Optic Blast, Cyclops comes in 2 versions for collectors to choose from; the popular forward stance pose only (Version A) or an additional upper torso (Version B) with upwards stance pose! 
IMPORTANT NOTE: THIS PAGE IS FOR THE VERSION A edition, it only features a forward facing Cyclops upper body stance. Collectors who also wants the additional upwards facing Cyclops upper body should check out VERSION B edition here.  More choices for collectors at different price points!
Background:
Scott Summers was the first of two sons born to Major Christopher Summers, a test pilot for the U.S. Air Force, and his wife Katherine…read more at https://www.marvel.com/characters/cyclops-scott-summers 

The Cyclops (Version A) Premium Collectibles statue features:
Light up visor 

Jim Lee inspired 90's Cyclops costume

Crafted from cold-cast porcelain 

Limited edition : MTO with maximum cap of 999

Art print by Carlos Dattoli 
Artists:
Studio HIVE (Illustrator, Design and Concept Collaboration with XM Studios)

Rafael Mustaine, Paul Tan, Marthin Agusta (Sculpt)

XM Studios Design and Development Team

Manufactured by: 
XM Studios
Note: Prototype shown and pending final approval, final product may differ
Product size : 36 cm  L X 31 cm B X 52 cm H 
Est. Box Size : 84 cm L X 74 cm B X 27 cm H 
Est. Product Weight : 7.5 Kg
Est. shipping weight : 20 kg
Free shipping will cover Hong Kong and Macau customer only.
Deposit: 2500HKD