XM 1/4 Doc Octopus - Sold out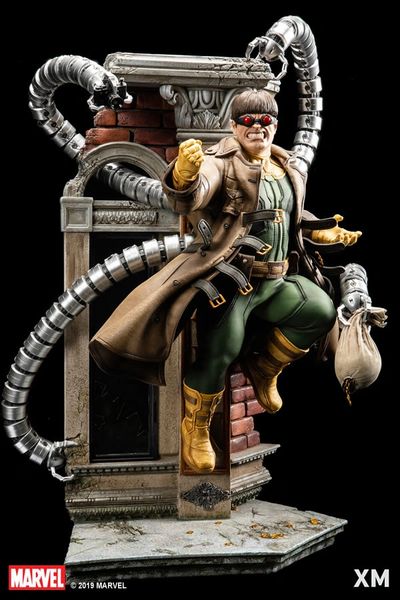 XM 1/4 Doc Octopus - Sold out
"WE CAN'T LOSE. THIS IS OUR DAY, GENTLEMEN... THE DAY THE SINISTER SIX REIGNS SUPREME!"
XM Studios is excited to present our next Marvel Premium Collectibles series statue, Doctor Octopus! The deadly and brilliant scientist, Otto Octavius, known as Doctor Octopus is immortalized in amazingly detailed 1:4 scale cold-cast porcelain. Each painstakingly handcrafted statue is individually hand-painted with the highest possible quality finish. Don't miss out on the first release of XM's Guardians of the Galaxy statues!
Background:
Doctor Octopus - Before his transformation into the megalomaniacal archenemy of the web-slinger, Otto was a brilliant and respected nuclear physicist, inventor, and lecturer. He became the youngest person to serve on the National Board of Nuclear Science. He designed a set of highly advanced mechanical arms to assist him with his research into atomic physics. The tentacled arms were resistant to radiation and were capable of great strength and highly precise movement. They were attached to a harness that fit around his body..… read more at https://www.marvel.com/characters/doctor-octopus-otto-octavius
The Doctor Octopus Premium Collectibles statue features:
Two (2) interchangeable portraits; Classic Retro and Modern

Incredibly detailed backdrop and base depicting a Bank heist scene 

Careflly engineered Robotic Arms that appear to hold Doctor Octopus in the air

Crafted from cold-cast porcelain 

Limited edition : MTO

Art print by Carlos Dattoli 
Artists:
Studio HIVE (Illustrator, Design and Concept Collaboration with XM Studios)

Victor Hugo Sousa (Sculpt)

XM Studios Design and Development Team

Manufactured by: 
XM Studios
Note: Prototype shown and pending final approval, final product may differ
Product size : 50 cm  L X 38 cm B X 65 cm H 
Est. Box Size : 75 cm L X 63 cm B X 75 cm H
Est. Product Weight : 18.5 Kg
Est. shipping weight : 30 kg
Deposit 2400HKD. Order close on 12 May 2019
 Free Shipping for HK and Macau customers.