XM 1/4 Gambit (XM EXCLUSIVE) - Sold out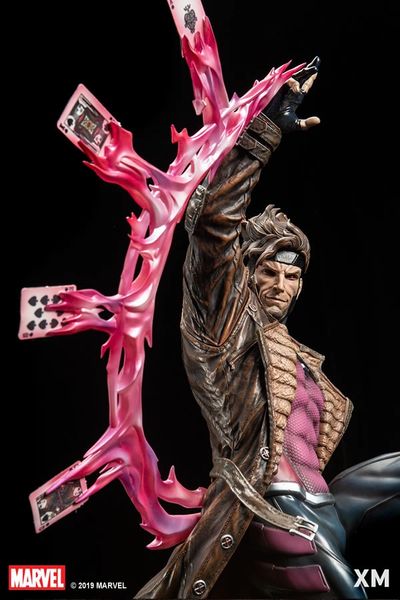 XM 1/4 Gambit (XM EXCLUSIVE) - Sold out
XM Studios is excited to present our next Marvel Premium Collectibles series statue, Gambit! The card loving cajun charms his way into XM as an amazingly detailed 1:4 scale cold-cast porcelain statue! Each painstakingly handcrafted statue is individually hand-painted with the highest possible quality finish. Gambit is XM's exclusive of the year which means he is only available directly from XM online and retail stores! Even distributors have to pay full retail to get this item from us and are given limited quantities! 
Background:
Gambit - Abandoned at birth due to his burning red eyes, the child who would one day become Remy LeBeau was kidnapped from his hospital ward by members of the New Orleans Thieves' Guild who referred to the child as "le diable blanc" - the white devil. They believed he was the child that had been prophesied to unite the warring Guilds. Soon after, Remy was placed in the care of a gang of street thieves who raised the child and taught him the ways of thievery.… read more at https://www.marvel.com/characters/gambit
The Gambit Premium Collectibles statue features:
Two (2) Headsculpt - 1 long haired portrait, 1 short haired portrait both sporting hypnotising red eyes

Two (2) Right arm - 1 holding a Jack of Spades card, 1 with all 4 cards mid-air, brimming with kinetic energy, poised to be released on its target (a trademark move often seen in comics!)

Crafted from cold-cast porcelain 

Limited edition : MTO (Capped at maximum 999 pcs)

Art print by Carlos Dattoli
Artists:
Studio HIVE (Illustrator, Design and Concept Collaboration with XM Studios)

Marthin Agusta Simny (Sculpt)

XM Studios Design and Development Team

Manufactured by: 
XM Studios
Note: Prototype shown and pending final approval, final product may differ
Product size : 43 cm  L X 30 cm B X 65 cm H  
Est. Box Size : 82.5 cm L X 48.5 cm B X 32 cm H
Est. Product Weight : 6.45 Kg
Est. shipping weight : 11.5 kg
Price already included shipping from Singapore to Hong Kong.
Free shipping  available to Hong Kong and Macau customer only. 
Deposit 3000HKD.