XM 1/4 Green Goblin Ver. B Set (XM Exclusive with Green Goblin Bust)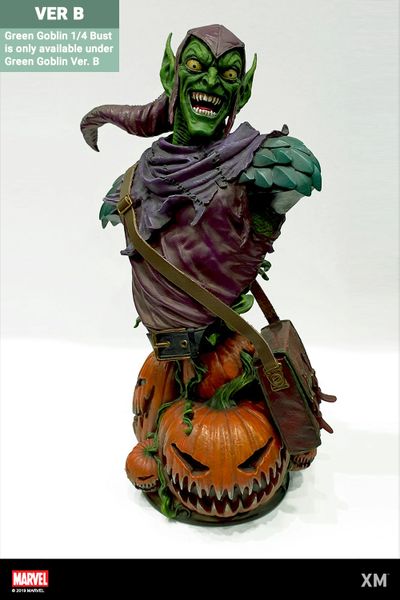 XM 1/4 Green Goblin Ver. B Set (XM Exclusive with Green Goblin Bust)
Background:
There is no shortage of great villains within the world of Spider-Man (poor Peter), but there are none more feared or deranged than Norman Osborn's Green Goblin. Perhaps the very antithesis of New York's resident Wall Crawler, the Goblin does not use his power for responsibility or the betterment of society, but instead to reign down chaos and destruction. Mr. Osborn was the result of his turbulent upbringing, which manifested itself in the villainous persona he would one day grow up to inhabit completely.… read more at https://www.marvel.com/characters/green-goblin-norman-osborn/in-comics
The Green Goblin Ver. A Premium Collectibles statue features:
Showcasing Green Goblin on his Goblin Glider, unhinged and undeterred, fuelled by his insanity to wreak havoc.

Two (2) Headsculpt - 1 featuring goblin mask, 1 of Norman Osborn sans mask.

Two (2) Interchangeable left arms: 1 with out-stretched arm, 1 clutching his goblin mask

Two (2) Interchangeable right hands: 1 holding his iconic pumpkin bomb, 1 with his fists clenched.

Crafted from cold-cast porcelain 

Each painstakingly handcrafted statue is individually hand-painted with the highest possible quality finish.

Limited edition : MTO
 
Artists:
Kucharek Brothers

Carlos Dattoli (Art Print)

XM Studios Design and Development Team

Manufactured by: 
XM Studios
Note: Prototype shown and pending final approval, final product may differ. Batteries will not be included for products with light up features due to customs.
Product size : 41 cm  L X 55 cm B X 69 cm H
Est. Box Size : 76 cm L X 65 cm B X 39.5 cm H
Est. Product Weight : 12 Kg
Est. shipping weight : 26 Kg
Free shipping for HK customers