XM 1/4 Magik - Pre Order (Sold out)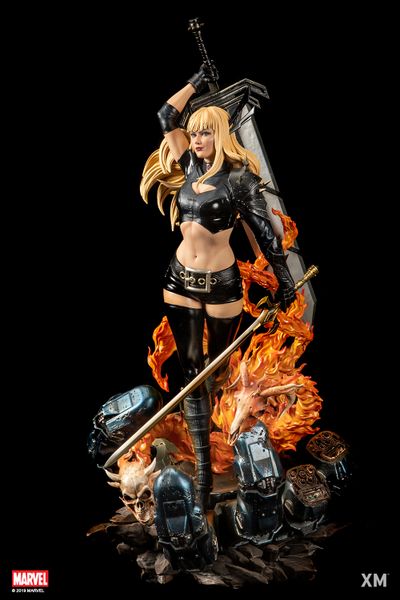 XM 1/4 Magik - Pre Order (Sold out)
XM Studios is excited to present our next Marvel Premium Collectibles series statue, Magik! This beloved character is immortalized in amazingly detailed 1:4 scale cold-cast porcelain. Each painstakingly handcrafted statue is individually hand-painted with the highest possible quality finish. Don't miss out on adding Magik to your collection!
Background:
The younger sister of the X-Man Colossus, Illyana came to live with her brother after being kidnapped by the eccentric assassin Arcade. Months later, the sorcerer Belasco captured Illyana and held her prisoner in the pocket dimension Otherplace, a.k.a. Limbo. Belasco turned a portion of her soul demonic in nature, and in the process conjured a "bloodstone" gem from her soul. When Belasco conjured five such gems, Illyana, who would have transformed into the entirely demonic Darkchilde, would serve as the means by which Belasco's demon masters, Chthon and the N'Garai, could conquer Earth.… read more at https://www.marvel.com/characters/magik-illyana-rasputin
The Magik Premium Collectibles statue features:
Two (2) Headsculpt - 1 portrait, 1 shows her Darkchild physical transformation, sporting horns and yellow eyes when she wields the Soulsword.

Base features a severed sentinel hand in a battlefield.

Crafted from cold-cast porcelain 

Limited edition : MTO
 
Artists:
Studio HIVE, Thomas Ho

Carlos Dattoli (Art Print)

Philip Herman (Sculpt)

XM Studios Design and Development Team

Manufactured by: 
XM Studios
Note: Prototype shown and pending final approval, final product may differ. Batteries will not be included for products with light up features due to customs.
Product size : 33 cm  L X 36 cm B X 62 cm H
Est. Box Size : 75 cm L X 59 cm B X 26.5 cm H
Est. Product Weight : 19 Kg
Est. shipping weight : 7.7 kg
Deposit 2400HKD
 Free shipping for HK customers.