XM 1/4 Scarlet Witch - Sold out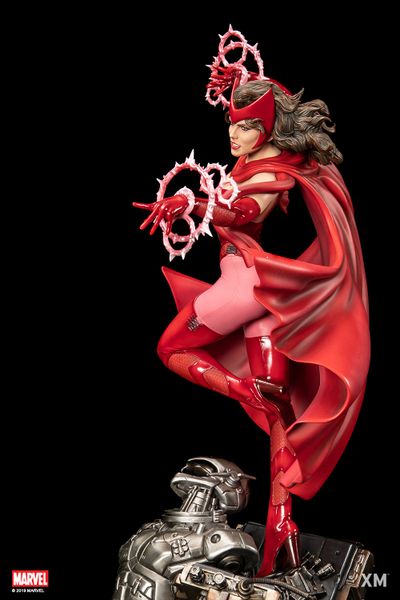 XM 1/4 Scarlet Witch - Sold out
XM Studios is excited to present our next Marvel Premium Collectibles series statue, Scarlet Witch! The daughter of Magneto and one of the most powerful mutants ever, Scarlet Witch is immortalized in amazingly detailed 1:4 scale cold-cast porcelain. Each painstakingly handcrafted statue is individually hand-painted with the highest possible quality finish. A must have to any X-Men fan, add Colossus to your collection today!
Background:
Scarlet Witch - Although much of the Scarlet Witch's true origins remain elusive to her thanks to manipulations by others, she can still recall her early days as a child with her twin brother Pietro. The two lived on Wundagore Mountain in Eastern Europe, believing themselves born as mutants to a Romani couple named the Maximoffs. Given the name Wanda, she lived for a short time in childish innocence until local troubles involving her parents separated her and her brother from them and forced her to hide her growing powers..… read more at https://www.marvel.com/characters/scarlet-witch-wanda-maximoff/in-comics
The Scarlet Witch Premium Collectibles statue features:
Two (2) Headsculpt - 1 portrait featuring Wanda's determined expression as she gears up for battle, the 2nd portrait features a fiercer expression.

Added power effect on hands due to community feedback

Crafted from cold-cast porcelain 

Limited edition : MTO

Art print by Carlos Dattoli 
Artists:
Studio HIVE (Illustrator, Design and Concept Collaboration with XM Studios)

Pablo Vicentin (Sculpt)

XM Studios Design and Development Team

Manufactured by: 
XM Studios
Note: Prototype shown and pending final approval, final product may differ. Batteries will not be included for any XM products with lighting features due to shipping and customs restrictions.
Product size : 30 cm  L X 34 cm B X 66 cm H 
Est. Box Size : 81.5 cm L X 55.5 cm B X 32 cm H
Est. Product Weight : 10.5 Kg
Est. shipping weight : 20 kg
Deposit 2400HKD.
 Free Shipping for HK Customer.