XM 1/4 Wolverine Brown - Pre Order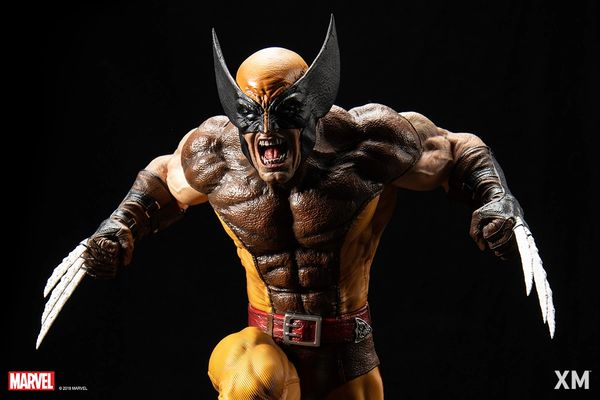 XM 1/4 Wolverine Brown - Pre Order
THAT ALL YA GOT, BUB?
XM Studios is excited to present our next Marvel Premium Collectibles series statue, Wolverine in his iconic Brown Suit! The brown suit is one of the most popular suits in the 80s-90s and here we see an enraged Wolverine leap into XM as an amazingly detailed 1:4 scale cold-cast porcelain statue! Each painstakingly handcrafted statue is individually hand-painted with the highest possible quality finish. Wolverine can be diplayed with his famous Adamantium claws, his original Bone claws or holding wicked Katanas!
Background:
From the northern wilderness of Canada hails one of the gruffest, most irascible, totally cynical and brooding member of the X-Men ever to grace the team with his presence…  
read more at https://www.marvel.com/characters/wolverine-james-howlett.
The Wolverine (Brown Costume) Premium Collectibles statue features:
Two (2) interchangeable head sculpts; Masked and Unmasked

Three (3) interchangeable left arms; Adamantium Claw, Bone Claw, Sheathed Claw for holding Katana

Three (3) interchangeable right arms; Adamantium Claw, Bone Claw, Sheathed Claw for holding Katana

Incredibly detailed base featuring; Japanese Roof top, a tribute to a comic run where Wolverine fought against The Hand

Crafted from cold-cast porcelain 

Limited edition : MTO

Art print by Carlos Dattoli
Artists:
Studio Hive in collaboration with XM 

Romell Chopraa (Original Sculpt), with revisions from the XM Art Team 

XM Studios Design and Development Team

Manufactured by: 
XM Studios
Note: Prototype shown and pending final approval, final product may differ
Product size : 66 cm  L X 46 cm B X 53 cm H  
Est. Box Size : 80 cm L X 63 cm B X 31 cm H 
Est. Product Weight : 8.5 Kg
Est. shipping weight : 17 kg
Deposit 2400HKD
Free shipping for HK and Macau customers.