XM 1/4 Catwoman (Pre Order)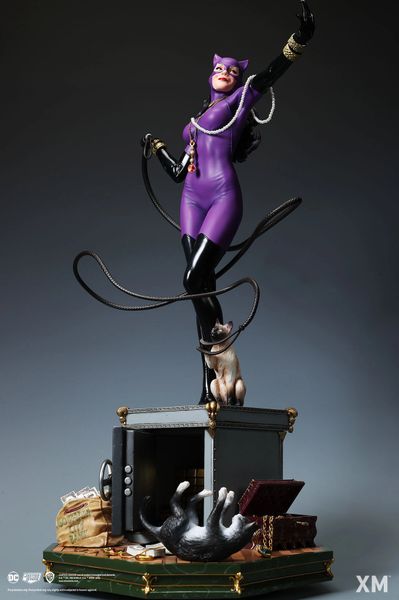 XM 1/4 Catwoman (Pre Order)
XM Studios is excited to present our next DC Comics Premium Collectibles statue, Catwoman! XM will be making this statue available in both 1:4 and 1:6 scale. Each
painstakingly handcrafted statue is individually hand-painted with the famous XM quality finish, and comes in a bold, dynamic, and story-laden style.
"The Bat may be the king of the beasts of Gotham. But the Cat? The Cat is definitely the queen. Infamous burglar Selina Kyle is certainly one of the most iconic characters in the DC Universe—not because she's a superhero, per se, but because she's so good at stumping them. Motivated partly by her own self-interest, partly by the fun of it all, Catwoman has been baffling Gotham City's heroes, both masked and unmasked, from the very beginning."
Beautiful, agile, deadly, and not too afraid to show off her abilities, Catwoman has a very particular set of skills that has contributed towards making her the most infamous cat-
burglar of Gotham City. The setting for this statue presents Catwoman in her natural element and doing what she does best. Clad in a pearl necklace while twirling her long trademark whip around herself playfully, she is seen standing on top of an open safe in high heels with piles of cash and jewelry around her. Just whose safe has she gotten her paws on this time though you may ask? The big gold-encrusted 'W' on the safe might give a clue.
The XM Team has opted to provide switch outs that allow collectors with the option to present Catwoman standing on top of the safe or on the floor. There are also 2 head switch outs, one with her fully suited with her mask on and one where her she is unmasked.
Character Background:
"An accomplished jewel thief and an occasional hero herself, Selina's murky moral compass has made her relationship with Batman complicated, to say the least. Still, the
undeniable magnetism between Bat and Cat is one of Gotham's most reliable constants: wherever Catwoman goes, Batman is sure to follow, if only to take her down. It's a complicated game of cat-and-mouse (cat-and-bat?) that Bruce and Selina have been playing across the streets and rooftops of Gotham for a long, long time."
Read more at https://www.dccomics.com/characters/catwoman
#DC
The Catwoman Premium Collectibles statue features:
Two (2) Portraits: 1 with Catwoman wearing her mask, 1 with Catwoman unmasked
Two (2) highly detailed sculpts: 1 featuring Catwoman standing on top of the safe, 1 featuring Catwoman standing on the floor
Crafted in Polystone
Each painstakingly handcrafted statue is individually hand-painted with the highest possible quality finish
Artists:
Mark Brooks (2D)
Pablo Vicentin (3D)
XM Studios Design and Development Team
Manufactured by:
XM Studios
Note: Prototype shown and pending final approval, final product may differ. Batteries will not be included for products with light up features due to customs.
Product and Box Dimensions
​
Estimated Product Size (LxBxHt): 32x48x68cm
Estimated Product Weight : 11 kg 

Estimated Box Size (LxBxHt): 85*60*30cm
Estimated Shipping Weight : 13 kg 
---
Free shipping for HK customers