XM 1/4 Magdalena <Price in HK>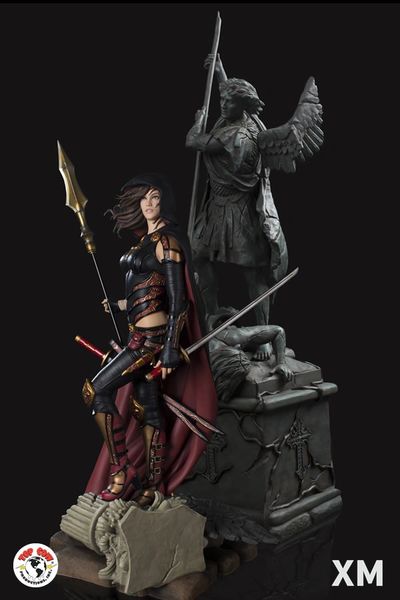 XM 1/4 Magdalena <Price in HK>
Deposit will be 2500HKD

Balance and shipping cost will be collected once the item released.
Shipping for Hong Kong and Macau customers is FREE.
For over 2000 years, the Knights of Malta have trained one special woman in each generation to be the Magdalena -- the official warrior protector of the Catholic Church. Across the millennia, the Magdalenas, official warrior protectors of the Catholic Church have battled in secret, protecting humanity from the supernatural threats and evil that would tear our world apart. The Magdalene is trained on several forms and styles of fighting. She's an expert on both unarmed and armed combat but favors medieval weaponry. She's an excellent sword and knife fighter, as well as considered unbeatable when she wields the Spear. She has been known to use firearms on occasion and carries one concealed handgun among the many swords, blades, knives and throwable devices she carries.

The Magdalena Premium Collectibles statue features:
Two (2) interchangeable portraits

Two (2) interchangeable right arms (Spear or Pistol) for alternate display

Crafted from cold-cast porcelain

Limited Edition: MTO

Art print by Studio Hive
Artists:
Studio HIVE (Illustrator, Design and Concept Collaboration with XM Studios)

George Gregory (Sculpt)

XM Studios Design and Development Team

Manufactured by:
XM Studios
Product size : 38cm H X 56cm L X 82cm B
Est. Box Size : 48cm H X 66cm L X 92cm B
Est. Product Weight : 14.7kg
Est. shipping weight : 24.7kg